> [Archived] Events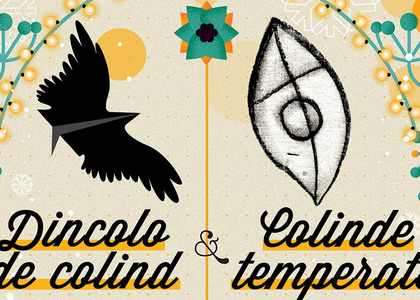 Carols in contemporary sounds, on the Teatrelli stage
Monday, 9 December 2019 , ora 10.47

Two ensembles of contemporary music bring contemporary carolsto the audience, but also a selection of lesser-known traditional carols translated into a current musical language, before the Holidays, on the Teatrelli stage.The concert is scheduled for December 10th, from 7 pm and it brings together the SonoMania ensemble and the artists Maria Balabaș, Mihai Balabaș, CălinTorsan and Marina Pingulescu.
"Beyond the carol", of the SonoMania ensemble and the "Temperate carols" of the artists Maria Balabaș, Mihai Balabaș, CălinTorsan and Marina Pingulescu are the two musical approaches that invite the public to a different carols concert. Tickets are available at the Teatrelli ticket office (Lahovari Square, No.7) and online, on bilete.ro. The price of a ticket is 28,35 RON.
"Beyond carol" proposes contemporary compositions that start from traditional carols. Reinterpreted by the new generation of composers through the prism of their own musical language and with the help of contemporary techniques, the works that make up the program are: Variations of caroling, by Aurelian Băcan, Reconstruction, by Bogdan Pintilie, weave.tear, by Alexandru Sima, Luminous , by Sebastian Androne-Nakanishi, Let it Ring by Vlad RăzvanBaciu, Mountain Field, by ÁronTörök-Gyurkó, Grow Me, Christian Lord&December, by DanDe Popescu, Perpetuum by Sebastian Tuna, Meditation Carol, by Alexandru Ștefan Murariu and Colindomania, by Andrei Petrache. Under the baton of Simona Strungaru, one of the most known and brave conductors of contemporary classical music in Romania, the Sono Mania ensemble consisting of Rauca Stratulat (violin), Valentin Ghita (oboe), Mihai Pintenaru (clarinet), Tamara Dica (fiddle), Eugen Bogdan Popa (cello) and Mihai Murariu (piano) will perform on the Teatrelli stage. The artistic direction of the project belongs to the composer Diana Rotaru.

Translated by Ioana Ghiță Facultatea de Limbi și Literaturi Străine,
Universitatea din București MTTLC, an II