> [Archived] Events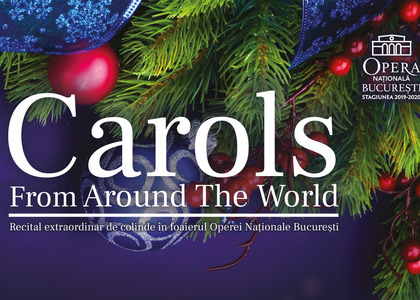 `Carols From Around the World` - An extraordinary carol recital in Bucharest National Opera House`s foyer
Friday, 13 December 2019 , ora 12.58

Bucharest National Opera presents on Sunday, 15th December, 2019, from 11:00 - `Carols From Around the World`- an extraordinary carol recital in the Opera House`s foyer.
The program of the event includes one international carol repertory that will be interpreted by our special guests, artists like Dragana Radakovic, Ljubica Vranes, Dragoljub Bajic and Mihai Irimia, alongside the artists of the country's first lyrical stage Mădălina Barbu, Zsuzsana Cerveni, Bianca Mărgean, Cristina Maria Oltean, Florentina Soare, Lucian Corchiș, Ion Dimieru, Dan Indricău, Liviu Indricău and Filip Panait, accompanied on the piano by Ștefan Iliescu. Playing the piano solo, our guest, Ioana Maria Lupașcu.
The specific magical atmosphere of the Christmas will pervade the entire event; the Opera House`s foyer has already been decorated in the winter holiday spirit, and it will greet you in a fairy like setting.
Tickets can be found on http://tickets.operanb.ro/ or at The National Opera House`s box office. (schedule: Monday-Sunday, 10:00 - 13:00 and 14:00 - 19:00)

Translated by Ecaterina Bușe, Universitatea din Bucuresti,
Facultatea de Limbi si Literaturi Straine MTTLC I