> [Archived] Events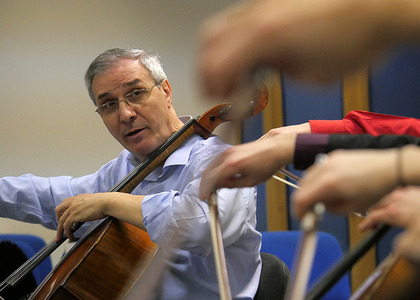 Two great Romanian cellists: Marin Cazacu and Răzvan Amount Sing Vivaldi and Händel at the Radio Hall
Friday, 13 December 2019 , ora 13.06

Two of the greatest Romanian cellists: MARIN CAZACU and RĂZVAN SUMA, whose professional encounter gave birth to a beautiful mentor-disciple relationship, will be on the Radio Hall stage on Wednesday, December 18th (7pm), in a concert presented by RADIO CAMERA ORCHESTRA, under the baton of conductor FERENC GABOR. A graduate of conducting studies at the Hanns Eisler Academy of Music in Berlin, Ferenc Gábor has performed on stage all over the world, performing for large orchestras, opera ensembles, but also smaller bands.
The two will perform on the stage of the Radio Hall two magnificent scores of the musical baroque: The concerts for two cello and orchestra signed by HÄNDEL and VIVALDI (the famous creator of the Seasons). The evening will begin with Three pieces for string orchestra, work belonging to one of the great Romanian musicians of the twentieth century: the composer and conductor CONSTANTIN SILVESTRI, marking 50 years from his death. A proven musical talent from the first years of his life, at the age of 17 he made his debut as conductor even at the National Radio Orchestra and a historical moment of his career is conducting the first enactment of the Enescu's Oedipe masterpiece in Romania, in 1958.
The event from the Radio Hall will end with Symphony No. 1, creation of BEETHOVEN, a preamble to the series of special events that the Radio Romania Orchestras and Choirs will offer to the spectators in 2020, an internationally marked anniversary moment on the 250th anniversary of the birth of the great creator.

Translated by Oprea Ana Maria Adriana, Universitatea din Bucuresti,
Facultatea de Limbi si Literaturi Straine MTTLC I