> [Archived] Events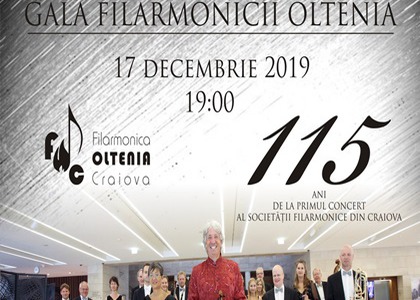 Johann Strauss Ensemble sings in Craiova at Oltenia Philharmonic Event
Tuesday, 17 December 2019 , ora 14.47

Oltenia Philharmonic Event reunites Tuesday, 17 december, from 7 PM, JOHANN STRAUSS ENSEMBLE from Viena and the Craiovean symphony under the baton of the reputet conductor RUSSEL MCGREGOR. 115 years from the foundation of the Philharmonic Society in Craiova and 15 years from the first concert in Romania by JOHANN STRAUSS ENSEMBLE marks a double celebration which will bring a lot of musical surprises for the music lovers. Representatives of the public administration and personalities of the cultural Craiovean life are invited to this anniversary event.
JOHANN STRAUSS ENSEMBLE, FOR 15 YEARS TOURS IN ROMANIA
Johann Strauss Ensemble conquered the public in Romania, every year, throught the typical Austrian sound, virtuosity, plus a drop of humor, elements which are the basis of the international success of this orchestra of musicians of the first order, applauded with enthusiasm by the spectators from all the meridians. The concerts held in Romania always included a lot of works in premiere and this year, a festive one, most likely, there will be a lot of musical surprises.
The attraction of the concerts held by the Austrian orchestra is mostly due to the magnetism of Russel McGregor, conductor and the lead of the Johann Strauss Ensemble, owner of a violin made by Carlo Giuseppe Testore in 1697, "the little sister" of the famous viola of Wolfgang Amadeus Mozart. Under the guidance or under the baton of Russel McGregor, international celebrities of the opera music like Luciano Pavarotti, Jose Carreras or Ildiko Raimondi performed.
The day of the Oltenia Philharmonic Craiova-115 years from foundation
On 17 december 1904 the first public concert with orchestra and chorus , under the baton of the conductors of C. Gaudy and Elie Mihăilescu, with the soloists Valeria Graepel and I. G. Mayer. This event attests the foundation of the current Philharmonic. At the beginning, the Philharmonic Society in Craiova stood out throught what the organizers called "soires"(bimonthly and chamber character), organized in "Minerva" salon and Commercials bathrooms.
The Symphonic Orchestra is formed by over 80 professional instrumentalists; the repertoire of this reputed band includes masterpieces of symphonic music and vocal-symphonic(misses, speakers, cantatas, requiems), musical jewellery, symphonic jazz, symphonic rock, concerts in unconventional places, covering an ample historical period of time, starting from baroque until our days. Permanently preoccupied by the accuracy of the interpretations, always appreciated by the public and the music criticism, the Oltenia Symphonic Philharmonic Craiova was invited to hold concerts on the most important scenes in Romania and had very successful tours in France, Italy, Germany, Holland, Spain, Switzerland, Gibraltar, Bulgaria, the Islamic Republic of Iran, Greece, South Korea.

Translated by Țîru Mălina Roxana, Universitatea București,
Facultatea de Limbi și Literaturi Străine, MTTLC, anul I