> [Archived] Events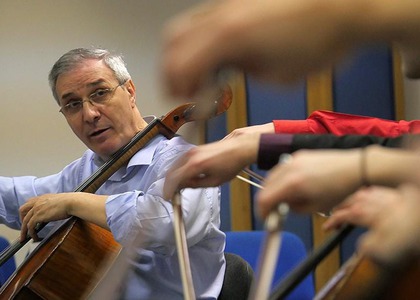 Two great Romanian cellists, Marin Cazacu and Răzvan Suma, are playing Vivaldi and Händel at Sala Radio
Wednesday, 18 December 2019 , ora 15.49

Two of the best Romanian cellists, Marin Cazacu and Răzvan Suma (who have a great mentor - student relationship ever since they first collaborated), are playing on the stage of Sala Radio Wednesday, December the 18th (at 19:00) as part of a concert presented by the Radio Hall Orchestra, alongside conductor Ferenc Gábor. After graduating from Hanns Eisler Music Academy in Berlin, Ferenc Gábor has been a conductor all over the world, in front of great orchestras and opera ensembles.
The two are playing on the stage of Sala Radio two beautiful scores of the musical baroque: Concerts for two cellos and orchestra by Händel and Vivaldi. The evening will begin with Three songs for string orchestra, written by one of the best Romanian musicians of the 20th century: composer and conductor Constantin Silvestri, 50 years after his death.
The event at the Sala Radio will be concluded with Beethoven's Symphony no.1, a preamble to the suite of special events that the Radio România Orchestras and Choirs have prepared for their audience in 2020, an internationally anniversary year, marked by the great composer's 250th birthday celebration. Born in Romania, Ferenc Gábor studied violin at the Musical High-school in Cluj-Napoca and then continued his studies in Tel-Aviv. Between 1986 and 1994 he was a member of Israel Philharmonic Orchestra, already being a first violinist at Konzerthausorchester Berlin. Among the ensembles he has conducted we can name: the Konzerthausorchester Berlin, the Costa-Rica National Orchestra, Kammerphilharmonie Potsdam, the Philharmonic Orchestras in Cluj, Târgu Mureș and Oradea, the Symphonic Orchestra in Istambul, and the Presidential Orchestra in Ankara. In 2007 he founded the Solistenensemble Ligatura Berlin band, which mainly aims at premièring works by young composers. The multiple absolute premières of some orchestral works of the 20th and 21st century have established Ferenc Gábor as an exceptional interpretor and an expert of contemporary music.
One of the greatest Romanian cellists, Marin Cazacu, is playing a collectible, a Lorenzo Ventapane cello (1820). Marin Cazacu is a laureate of international competitions in Geneva, Markneukirchen, Leipzig, Bologna, and Belgrad. He has been a concert cellist for the George Enescu Philharmonic since 1983 and he is active in Romania, Europe, Asia, and both of the Americas, together with great conductors. His name has often appeared on the posters of important festivals: Berlin, Bratislava, Bucharest, Hong-Kong, Macao, Munich, Milan, Osaka, Singapore, Tokyo, Valencia, and Venice.
Marin Cazacu has a teaching post at the National Music University in Bucharest since 1992, and his students are successful both on stages around the country and across the border. In 1998, the Cellissimo quartet was founded, together with Alexandra Guțu, Răzvan Suma and Olga Mănescu. He also plays concerts with his students, recitals of 8 to 20 cellos, as the Violoncellissimo band.
In 1999, Marin Cazacu founded the International Enescu and World Music Festival, which takes place every summer in Sinaia, around the anniversary of the great musician's birthday (August 19th). After organising this festival and founding the fist national teen orchestra (the Romanian Teen Orchestra, conducted by Cristian Mandeal), he was awarded by the VIP and Actualitatea Muzicală magazines for Project of the Year in 2008, and in 2012 he received the Radio România Cultural Prize.
Having a vast repertoire, after hundreds of recitals and concerts all around the world, cellist Răzvan Suma is one of the most active Romanian musicians. Apart from his concerts in Romania, he often plays with Spanish pianist Josu Okiñena, with whom he had played in concert halls such as Auditorio Nacional de Madrid, Teatro Colon din Buenos Aires, the Belém Cultural Center in Lisbon, Kursall in San Sebastian, and Casa da Musica in Porto.
As a soloist in Radio România's Orchestras and Choirs, Răzvan Suma is well-known by the public around the country because of his national tours, starting in 2012: Do you like Bach?, Do you like Brahms?, Do you like Tango?, Do you like Cello? etc. Aside from these, he also played the Spanish Evening and British Evening tours, and the tours of the ArgEnTango group: Piazzolla - O poveste autentică and Tango La Cetate. Aside from his constant presence in the classical music world, Răzvan Suma also took part in less conventional projects for a younger audience, open to innovation, such as his collaboration with the band Vița de Vie in 2013 for one of their songs on the Acustic album, which was recorded alongside him.
The concerts can be accessed on any frequency of Radio România Cultural and Radio România Muzical in the country and online, on www.radioromaniacultural.roand www.romania-muzical.rofor live streaming.
Tickets for the Radio Orchestras and Choirs concerts are available online through www.bilete.ro, in Romanian Post offices, in Inmedio shops and at the Sala Radio Box Office.

Translated by Dinu Alina-Maria, Universitatea București,
Facultatea de Limbi și Literaturi Străine, MTTLC, anul I