> [Archived] Events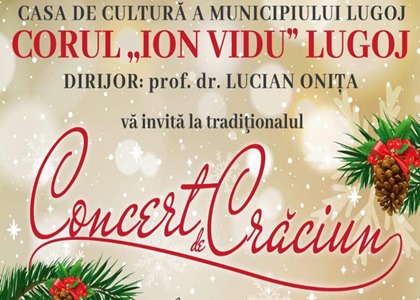 Christmas concert of the Ion Vidu Choir in Lugoj
Wednesday, 18 December 2019 , ora 15.53

The "Ion Vidu" Choir of the Culture House of the Municipality of Lugoj, led by the master Lucian Onița, invites the locals to the traditional Christmas Concert, which will take place on Thursday, December 19th, 2019, starting at 6 p.m.
The special artistic event will be hosted by the Theater Hall of the Municipal Theater "TraianGrozăvescu", where, in a real holiday atmosphere, there will be performed, in front if all those present, songs and Christmas carols, compositions of well-known Romanian and universal composer, such as I. Costescu, DG Kiriac, N. Lungu, S. Olariu, T. Popovici, Gh. Cucu, A. Pärt, A. Adam, J. Pierpont, A. Secco, W.A. Mozart, A. Vivaldi, Bárdos L., St. A. Maria di Liguori, J. Schnabel, Fr. Gruber, G.F. Händel et al.
A special note is represented by the presence of the Chamber Music Formation of the Faculty of Music in Timisoara, which will complete the warm atmosphere of the upcoming holidays announcing the birth of the Savior Jesus Christ.
The soloists of the concert will be sopranos Ioana Mia Iuga and Maria Virginia Onița, tenor Daniel Zah and baritones AlexandruȘuca and Samuel Constantin.
The entry is free, within the available places.
You are more than welcome.

Translated by Ioana Ghiță, Universitatea București,
Facultatea de Limbi și Literaturi Străine, MTTLC, anul II