> [Archived] Events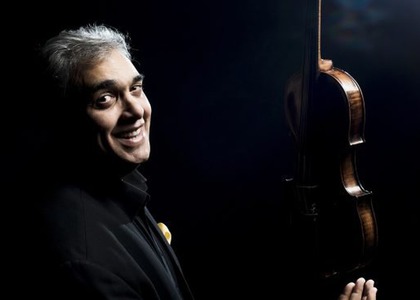 Florin Niculescu Quintet takes `East to West` music to Europe
Wednesday, 15 January 2020 , ora 15.26

Three concerts `East to West` held by Florin Niculescu Quintet will take place within The International Festival of Art `EUROPALIA` on Wednesday, 15th January at De Centrale Gent, on Thursday, 16th January at Cultuurentrum Leopoldsburg, and on Friday, 17th January at Café Trottinette Sankt Vith.
EUROPALIA ROMANIA Festival is coordinated by the Romanian Cultural Institute and Europalia International from Belgium.
Florin Niculescu is called by the critics `the descendent of Grappelli`, and appreciated as `one of the greatest violinists in the history`, `Le Nouvel Observateur` said he was an `hugely impressive and fabulous violinist`, `Le Monde` sais he is `a remarkable musician, precise, agile and dynamic`, and `Le Figaro`highlighted that he is `breathtaking, both brutal and tender`. The members of the band that will held the three concerts in Belgium are: Florin Niculescu (violin), Daniel Kramer (piano), Hugo Lippi (guitar), Philippe Aerts (bass), Bruno Ziarelli (percussion) and Philippe Cadeau (tambourine and video-art). The artistic project named `East to West` promotes the cultural diversity and the multicultural dialogue. The original music was collected by Florin Niculescu, and he also organised the songs. In the repertoire we find famous songs like: "Mociriță cu trifoi"(new adaptation), "Cânta cucu-n Bucovina", "Coborâi din deal în vale", "Ciocârlia".
`When I get on the stage, I try to summon up the feelings I have for the places where I grew up and where I developed as an artist`, punctuates the artist Florin Niculescu.

Translated by Ecaterina Bușe, Universitatea București,
Facultatea de Limbi și Literaturi Străine, MTTLC, anul I