> [Archived] Events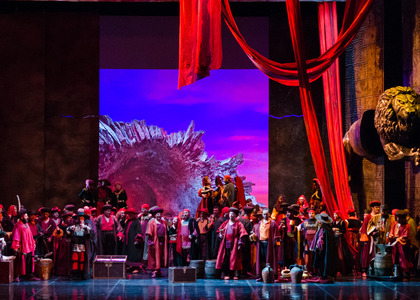 Verdi's " The Troubadour", at the beginning of the year on the scene of the Bucharest National Opera
Monday, 20 January 2020 , ora 11.06

The Bucharest National Opera presents on Friday, January 17, starting at 18:30 the show "The Troubadour" by Giuseppe Verdi. The staging, the setting, the costumes and the lights bear the signature of Mario De Carlo. Assistant scenographer Andreea Koch, the Choir of the Bucharest National Opera was prepared by Daniel Jinga. Assistant director Alex Nagy. The manager will be the teacher Iurie Florea.
Verdi's "The Troubadour" is one of his most intense, most dramatic and, paradoxically, accessible works to the public. The title has represented since the premiere that took place in Rome in 1853 a success of proportions and has been preserved since then in the seasons of all the great works of the world, which once again validates the value of the score of the Italian composer, but also the public's interest in this. work.
A story that does not lack strong characters in their ambitions, desires and passions that confront or give their hearts with the madness of youth, courage or love. However, the decor of these destinies is engulfed by the pride and tools of vengeance, which further intensify the flame of their existence and feelings. A captivating love story, born at the intersection of two worlds: the noble and the nomadic.
Verdi took over from the historical subject that reflected the anti-feudal riots of the Spanish cities of the fifteenth century, focusing on the psychological drama of the main characters. Two brothers, Count de Luna and Manrico, the troublemaker, stolen by Azucena when he was a little baby, share a common love for Duchess Leonora. Although the two do not know the secret of their separation. Leonora loves the man, but surprised by the Count of the Moon, the duel between the two is imminent. Leonora, not knowing the outcome of the fight, but hearing the rumor that Manrico was killed by the count's guards, swears to become a nun. Her beloved troubadour, who escaped , seeks her at the monastery to run away. The army of the Count of the Moon besieges the hiding place of the lovers, and the old Azucena, looking for her son in the enemy camp, gets trapped and sentenced to death. Trying to save his mother, Manrico is captured and thrown in jail. Desperate, Leonora promises the Count that she will marry him in exchange for Manrico's freedom. Believing himself a winner, the Count has a surprise. Leonora prefers to be poisoned and dies in the arms of her lover, proving her unlimited loyalty. Blinded with anger, the Count forces Azucena to follow Manrico's execution. Finally, the old gypsy announces that he actually killed his brother.
Tickets can be found on http://tickets.operanb.ro/ and at the ticket office of the Bucharest National Opera (schedule Monday - Sunday between 10am - 1pm and 2pm - 7pm).

Translated by Oprea Ana Maria AdrianaFacultatea de Limbi și Literaturi Străine, MTTLC, anul I