> [Archived] Events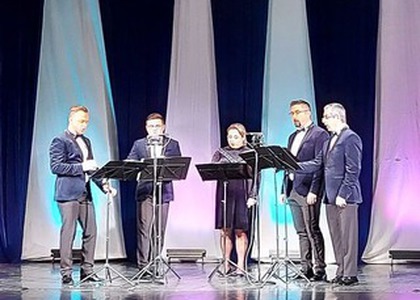 Opera, online, at your home!
Monday, 2 November 2020 , ora 14.25

The most recent health safety measures have determined BrașovOperato restrict the events that took place in the presence of the public, but our artistic activity goes on online! The show "Divertisment de toamnă", supported by vocal quintet Anatoly, scheduled for Wednesday evening, took plane on the stage of the Brașov Opera. This was recorded and will be broadcast online on Friday, October 30th, 2020, from 6:30 pm, through our YouTube channel, website www.opera-brasov.ro and Facebook page. Access is free! So, the series of online views continues, initiated in March of this year.- "Opera, at your home", through we want to be close to our dear audience even in this difficult times we are all going through.
The five members of Anatoly group (AndradaMureșan- alto, Gabriel Baciu- tenor I, Ciprian Cucu- tenor II, Ciprian Țuțu- baritone, Marius Modiga-bass) have prepared a special concert for us, with a great variety of genres, styles and approaches, starting with opera music, the symphonicone, and reaching to pop music. During this event, you will be able to listen to songs in first absolute audition for this vocal version, such as "Swing Song" by Johanness Brahms, "Pseudo-Yoik" by Jaako Mäntyjärvi or "Besame Mucho" by Consuelo Velázquez. The arrangement of all the songs belongs to Ciprian Cucu and Ciprian Țuțu. The musical surprises won't be missing, just like the five Anatoly taught us, at every concert.
On Sunday, November 1st, 2020, from 6:30 pm, Brașov Opera broadcasts online, on its own YouTube channel, on the institutional site and live on the Facebook page, the vocal-instrumental recital "Donizetti per sempre". The musical event represents a tribute brought to the titan of Italian belcanto, from whose works you will be able to listen to the most representative moments: "The daughter of the regiment", "Don Pasquale", "The elixir of love", "Lucia di Lammermoor", "Lucrezia Borgia", "Maria Stuarda", "Roberto Devereux", "Linda di Chamounix". On Brașov Opera stage, the artists: Mădălina Bourceanu, Maria Catrina, Valentina Mărgăraș, Sonia Hazarian, Carmen Topciu, Liviu Iftene, Mihai Irimia, Valentin Marele and Dan Popescu will be present. They will bea ccompanied by the pianist Lioara Frățilă. The presentation of the event will be made by the actress Nora Vlad. Stage director: Silvia Papadopoulos.
The access at the online event is free!

Translated by Călinescu Emilia-Georgiana,
University of Bucharest, Faculty of Foreign Languages and Literatures, MTTLC, year I
Corrected by Silvia Petrescu