> [Archived] Events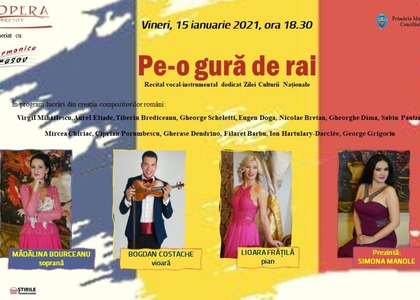 100% Romanian recital, on the National Culture Day
Tuesday, 12 January 2021 , ora 15.35

The Brasov Opera, in partnership with Brasov Philharmonic, offers you, on the National Culture Day, the vocal-instrumental recital "Pe-o gur de rai", a 100% Romanian recital, both through the proposed musical creations and the lyrics that and, why not, through performers who will offer them to you - young artists of the two mentioned institutions. So, on Friday, January 15th, 2021, 6.30 pm, we invite you, online, on our Facebook page and on the official YouTube channel: https://www.youtube.com/watch?v=3uc58X3T2us&feature=youtu.be, to watch this extraordinary event.
The protagonists of this recital are: MdlinaBourceanu - soprano, Bogdan Costache - violin and LioaraFril - piano, who propose, for audition, lieds of composers TiberiuBrediceanu, Gheorghe Dima, Nicolae Bretan, Eugen Doga, Sabin Putza, Virgil Mihilescu, and arias from Romanian operettas: "Let me sing" by GheraseDendrino, "Ana Lugojana" and "Plutaul de pe Bistria" by Filaret Barbu, "Amorulmascat" by Ion Hartulary-Darcle or "ValurileDunrii" by George Grigoriu. Among the immortal instrumental creations will be the famous "Ballad for violin and piano op. 29" written by CiprianPorumbescu. The presentation of the event will be hosted by Simona Manole.
We warmly invite you, on the National Culture Day, to enjoy Romanian sounds, on lyrics by Mihai Eminescu, Veronica Micle, Constantin Paiu, Toma Istrati, through which the local spirit and feeling will warm your souls at this moment of a special significance, on the same day we celebrate the birth of the great national poet, Mihai Eminescu.

Translated by Dumitru Bianca,
University of Bucharest, Faculty of Foreign Languages and Literatures, MTTLC, year I
Corrected by Silvia Petrescu