> [Archived] Events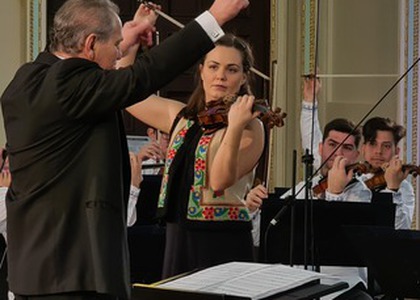 Romanian Youth Orchestra - concert '145 years since the birth of Constantin Brâncuși'
Tuesday, 16 February 2021 , ora 15.06

The National Centre of Young Romanian Artin partnership with the National Museum of Art of Romania, under the patronage of the Ministry of Culture, announces an extraordinary event presented to the public on radio and TV broadcast, co-producers being TVR and Radio Romania.
The extraordinary concert 145th anniversary of the birth of the great sculptor Constantin Brâncuși will be broadcast on February 19th on Radio Romania Musical, from 15.30 and on TVR 3 from 21.00, and will bring before the public the Romanian Youth Orchestra, conducted by Cristian Mandeal, soloist Monica Bejenaru - vocals Simina Croitoru - violin, with an unusual program, illustrated with images of Brâncuși's works from the National Museum of Art of Romania.
Marin Cazacu, manager of the National Art Center "Youth Romanian" declared at rehearsals: "This unique project started from Constantin Brâncuși's love for Romanian folk music. The Romanian Youth Orchestra, together with the master Cristian Mandeal and soloists Monica Bejenaru and Simina Croitoru, will perform the folk pieces most appreciated by the great Romanian sculptor, paying tribute to him on the occasion of the 145th anniversary of his birth. This music moved him and inspired him so much that, after a concert, he told the great artist Maria Tanase: "when I listen to you as you call them, Mary, I would be able to chisel for every song of ours a Great Bird".
The musical program will include two folk suites in the arrangement of Mihai Gherghelaș, soloist Monica Bejenaru - vocals, comprising works of famous pieces from Romanian folklore from Oltenia, Banat, Crișana, Transylvania, Moldova, Maramures, Dobrogea and Muntenia, four instrumental pieces in the arrangement of Eduard Boboia, soloist Simina Croitoru on violin - Ciocârlia in the arrangement of Ioan Dobrinescu and folcloric dance bySabin Păutza, then Hora staccato and Mărțișor`s choir of Grigoraș Diricu and finally the Folklore Suite No. 3 in the arrangement of the same Mihai Gherghelaș, soloist Monica Bejenaru - voice, which will include from the repertoire of Maria Tanase`s songs "Last night the wind was blowing", "Who loves and leaves", "Until I did not love you", "I put basil in my hair", "Good is the wine of the guurghiuliu", "Mary and Marioara ".

Translated by Dărăban Denisa,
University of Bucharest, Faculty of Foreign Languages and Literatures, MTTLC, year I
Corrected by Silvia Petrescu