> [Archived] Events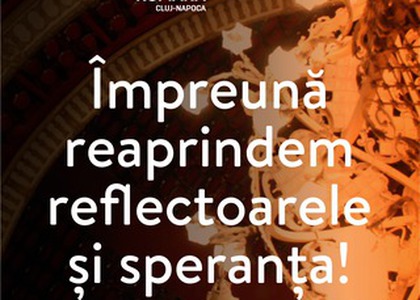 We reopen together the spotlights and the hope, together with the Romanian National Opera from Cluj-Napoca
Monday, 22 March 2021 , ora 11.40

Although it has been one year since the curtain went down and since the postponing of the events held with ahouse full, the Romanian National Opera House from Cluj-Napoca continues its mission of sharing the lyrical art beyond the physical borders of the COVID19 pandemic, throughout bi-weekly online broadcastings. The challenges experienced by the artistic field during this difficult period of time are inevitable. And the audience's support is welcomed and it has been made possible through the recent release of some Honorific tickets.
Because it is determined to remain close to its audience, the lyrical theater from Cluj-Napoca offers every week digital reasons for joy: every Friday night - throughout new recitals, concerts and choreographic filmed shows that are broadcasted for the first time, that are held without an audience and in compliance with all the safety rules that are in force; on Sunday evenings - that invite us to see again the most beloved shows of the repertoire, special events and productions which have an international resonance - on the official site www.operacluj.ro. These 100 virtual performances that have been offered by now have attracted millions of visualization and numerous emotional messages that came from elsewhere in the world.
All these broadcasting will continue to be offered for free, but the challenges felt cause of the pandemic's extension and the impossibility of the resumption of the shows with audience affects the lyrical institution. In this way, the spectators who want to give an additional aid to the Romanian National Opera from Cluj-Napoca, are able to do it at every broadcasting, by buying a Honorific Ticket. Because they have ten attractively personalized categories with ten well-known titles from the lyrical repertoire, the honorific tickets have prices which vary between 10 and 20 lei and can be bought either online or from the Ticket Agency of the Opera House.
We can together encourage the artists of the Romanian National Opera from Cluj-Napoca, while waiting for the reopening of its music hall! We want to thank you by gladly inviting you- for the moment, on the virtual stage!

Translated by Mihai Petre,
University of Bucharest, Faculty of Foreign Languages and Literatures, MTTLC, year I
Corrected by Silvia Petrescu