> [Archived] Events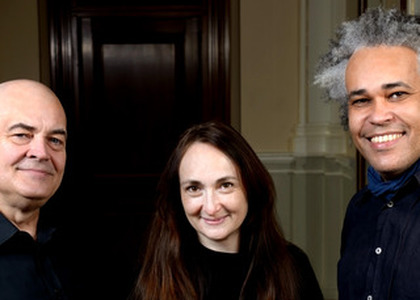 Chamber Stage 'Florescu-Fernandez & Friends' - a new online concert
Monday, 29 March 2021 , ora 11.07

We invite you on Sunday, March 28th, 2021 at 17.00, to the next online concert of the "Florescu-Fernandez & Friends" Chamber Stage, which we titled "Sempitern". Why sempitern? Because it is a word that includes in its meaning the past about which we know little, the future we are recalling and the present from which we are writing to you right now, and for us, personally, sempitern represents an uninterrupted line of the phenomenon of creating music...
When we moved to Sibiu, we did not know that our presence here would take the exact form of this uninterrupted line and that the passion we have for chamber music would actually ensure the continuity of a phenomenon with a beautiful, though little-known, story. It is about the initiative of some Melomans from Sibiu, who founded the Musical Society "Musikverein Hermannstadt" in January 1839. Those people passionate about music organized the first concert on March 24, 1839. For us and for colleagues at the Sibiu State Philharmonic it is a great joy to remember, especially in March, that there were those people and that beginning 182 years ago.
We dedicate our Sunday concert to them and more than that, through the work of the Florescu-Fernandez & Friends Chamber Stage, we want to take forward their initiative - of course - with the means of the world now and with the thought of the musicians of the future, who will one day take the baton from us.
"Sempitern" brings for the first time in the Chamber Stage "Florescu-Fernandez & Friends" our colleague from the Sibiu State Philharmonic, the clarinetist Florin Greluș in a program with works for clarinet, cello and piano by Carl Frühling and Nino Rota.
Program:
Carl Frühling - Trio for clarinet, cello and piano in minor, op.40
Ninen Rota - Trio for clarinet, cello and piano
Florin Greluș, clarinet
Makcim Fernandez Samodaiev, cello
Monica Florescu, piano
Livestreaming:


https://livestream.com/romania-live-events/sempitern
***The concert is part of the series "Odae cum harmoniis", a project carried out by the German Sibiu Forum, with the support of the Romanian Government, through the Department of Interethnic Relations.***
Thank you for your support!

Translated by Dărăban Denisa,
University of Bucharest, Faculty of Foreign Languages and Literatures, MTTLC, year I
Corrected by Silvia Petrescu