> [Archived] Events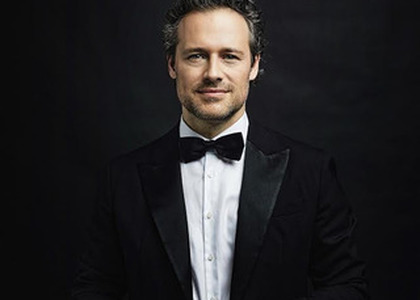 HAYDN-MOZART-BEETHOVEN, under the baton of the Viennese-born conductor SASCHA GOETZEL, live at SALA RADIO
Friday, 16 April 2021 , ora 13.54

The acclaimed Viennese conductor SASCHA GOETZEl, who started his career as a violinist of the Vienna Philharmonic Orchestra and is now the honorary artistic director of the Borusan Istanbul Philharmonic Orchestra as well as principal guest conductor of the Sofia Philharmonic Orchestra,brings at Sala Radio the legendary trio Haydn- Mozart- Beethoven that marked the history of the Viennese music at the turn of the 19th century.
On Friday, April 16th 2021, starting 7 p.m., you will be able to listen, live streaming from Sala Radio, to a magnificent concert by THE ROMANIAN RADIO NATIONAL ORCHESTRA featuring the cellist RĂZVAN SUMA. Concert soloist of the Romanian Radio Orchestras and Choirs, Răzvan Suma has become known to the general public due to his national concert tours, among which the suite Do You Like BACH?, Do You Like BRAHMS?, and Do You Like TANGO?, etc
Among the projects conductor Sascha Goetzel has been involved in this year we'll be mentioning here the album he recorded with The Monte Carlo Philharmonic Orchestra, Piazzolla Stories. The album was supposed to mark the centenary of the famous Argentinian composer's birth and it was released by Warner Classics this past February. As for his most recent concerts, they were held in South Korea where he conducted The KBS Symphony Orchestra which performed at the Tongyeong International Music Festival.
In a world so rife with rivalries and envy, Haydn and and Mozart used to be good friends who showed mutual respect and admiration for each other's work. As a matter of fact, Mozart's early compositions were influenced by Haydn to whom he dedicated six string quartets. Haydn, on the other hand, thought Mozart to be a musical genius. Widely regarded as the greatest composer of his time, Haydn was, for a short while, young Beethoven's teacher and mentor.
The music program for the night includes Mozart's Symphony No. 1, Haydn's Cello and Orchestra Concerto No.4 and Beethoven's No. 6 Pastoral Symphony.
The concert will be live- streamed on Radio România Cultural, Radio România Muzical as well as online on our websites www.radioromaniacultural.roand www.romania-muzical.ro, respectively.
For further information on the Romanian Radio Orchestras and Choirs, you can visit our website www.orchestreradio.ro.

Translated by Elena Florea,
University of Bucharest, Faculty of Foreign Languages and Literatures, MTTLC, year I
Corrected by Silvia Petrescu