> [Archived] Events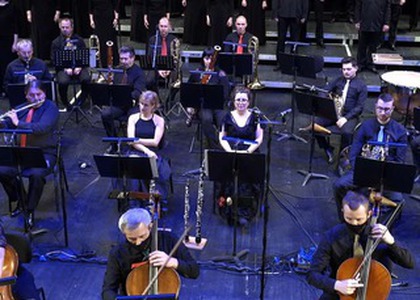 The Hungarian Opera in Cluj launches a series of videos under the title 'Famous choirs from operas'
Monday, 19 April 2021 , ora 13.39

In operas, the choir interprets the voice of the crowd, multiplying the emotional impact of those pieces of music by its mere presence. The choir celebrates, mourns, gossips, revolutionizes, rejoices and cries with the main character. Due to their melodic richness and virtuosity These music messages to the masses are one of the most beloved concert programs. Welcome and listen to these choirs, in the hope of reuniting as soon as possible! "- says the conductor Kulcsár Szabolcs, the artistic director of the concert.
In this series, we will publish every night from seven o'clock a video on the pages of the social networks of our institutions, between April 19th-28th, 2021. The entire concert can be watched on April 29th, 2021, Sunday, from 7 pm, on our YouTube channel and on our Facebook page.

Time schedule:
Ruggero Leoncavallo: Paiațe / Pagliacci - Din don... Suona vespero
Georges Bizet: Carmen - Les voici! Voici la quadrille!
Giacomo Puccini: Tosca - Sale, ascende, l'uman cantico (choral part)
Gaetano Donizetti: Don Pasquale - The servants' choir / Che interminabile andirivieni
Giuseppe Verdi: Nabucco - The Jewish slaves choir / Va pensiero
Gaetano Donizetti: Lucia di Lammermoor - D'immenso giubilo
Giacomo Puccini: Madama Butterfly - Coro a bocca chiusa
Giuseppe Verdi: The Trubadur / Il trovatore - The gypsy choir / Vedi! Le fosche notturne spoglie!
Kodály Zoltán:Szekler sitting - Jaj, de szépen cseng a lapi (fragment)
Giuseppe Verdi: I lombardi - Pilgrims' choir / O, Signore dal tetto natio
Starring the choir and orchestra of the Hungarian Opera in Cluj
Conductor, choirmaster: Kulcsár Szabolcs
Concertmaster: Ferenczi Endre
Sound: Kovács László, Kerekes Zsolt
Visual concept: Kulcsár Szabolcs
Image and editing: Tárkányi János
Room: Szabó Norbert Zsolt
Technical director, assistant director: Venczel Péter
Directed by Szabó Emese

Translated by Crețu Elena,
University of Bucharest, Faculty of Foreign Languages and Literatures, MTTLC, year I
Corrected by Silvia Petrescu