> [Archived] Events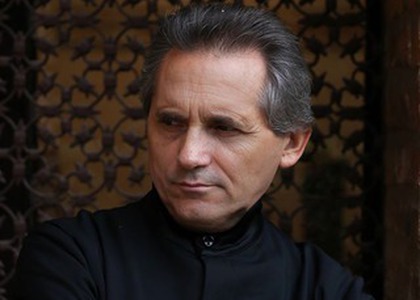 International New Music Week - 30th edition: concert broadcast LIVE on the airwaves, by the Radio Hall
Wednesday, 26 May 2021 , ora 10.03

After a year of pause for pandemic reasons, in 2021 INTERNATIONAL WEEK OF NEW MUSIC - SIMN, an extraordinary event that promotes contemporary music creation, reaches its 30th anniversary edition! Organized by the Ministry of Culture and National Identity and by the Union of Composers and Musicologists of Romania, the event is realized with the support of Radio Romania, as co-producer.
In preparation for the event that will take place this year at the end of June, Wednesday, May 26th, from 19.00, the Radio Chamber Orchestra presents a preview concert with three works signed by contemporary Romanian creators. The event will be conducted by VALENTIN DONI, who has carried out an extensive activity as artistic director and first conductor of the Symphony Orchestra of the National Philharmonic of the Republic of Moldova. Currently, he is the permanent conductor of the "Mihail Jora" Philharmonic in Bacău. He studied at the National Regional Conservatory in Rueil, Malmaison (France) and received internships at the Lyon Academy of Music and the Lille Philharmonic. In 2002, the French government awarded him the title of Knight in Arts and Letters.
The evening will begin with the Night Rondo - for clarinet, brass ensemble, piano and percussion - by ADRIAN IORGULESCU (* 1951), a work inspired by a famous painting by Rembrandt, but also by the night journey of the Civil Guard formed by Master Dumitrache , Nae Ipingescu and "company", described in "A stormy night" (Caragiale). As a soloist, you will appreciate EMIL VIȘENESCU. First clarinetist in the orchestra of the "George Enescu" Philharmonic, Emil Vișenescu is a graduate of the National University of Music in Bucharest and studied for a master's degree in Switzerland, at the Hochschule für Musik und Theater in Bern-Biel.
The concert at the Radio Hall will continue with Vivaldiana for flute, harpsichord and string orchestra, created by the Cluj maestro EDE TERENYI (1935-2020), an opportunity to applaud the well-known flutist ION-BOGDAN ȘTEFĂNESCU (soloist of the "George Enescu" Philharmonic) , who plays on a "jewel" instrument: an 18k gold flute, made by the Japanese company Muramatsu.
The last work of the evening is presented in the first absolute audition: Chimeras for violin and orchestra by DOINA ROTARU (* 1951), a creation inspired by the admirable sculptures of Dimitrie Paciurea. As a soloist you will listen to DIANA MOȘ (violin). In 2010, Diana Moș won the "George Enescu" scholarship offered by the Romanian Cultural Institute for an internship at the Cité des Arts in Paris and has been, since 2016, rector of the National University of Music in Bucharest.
The concert will be broadcast LIVE on the airwaves - on all frequencies Radio România Cultural and Radio România Muzical- and live streaming on the Internet, on the websites of the two radio stations.
For more information on Radio Orchestras and Choirs please see the website www.orchestreradio.ro.

Translated by Alma Teodora Miron,
University of Bucharest, Faculty of Foreign Languages and Literatures, MTTLC, year I
Corrected by Silvia Petrescu