> [Archived] Events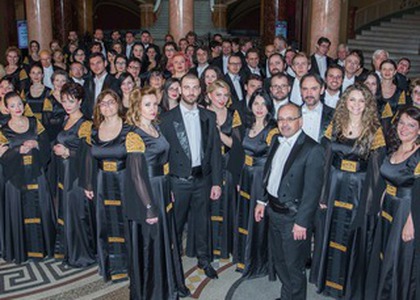 Choral concert WITH PUBLIC
Tuesday, 15 June 2021 , ora 23.16

The "George Enescu" Philharmonic announces a new concert with the public, this time supported by the institution's choir. For over seven decades, the "George Enescu" Philharmonic Choir has been a living and honorable presence in Romanian and international musical life. Founded in 1950, it has gained, over time, its overall reputation as an elite. Since 1997, the band has been led by conductor and pianist Iosif Ion Prunner, a member and successor of a famous family of musicians and people of culture in Romania. The approached repertoire covered both the productions of the past centuries and the contemporary creation. In addition to the established vocal-symphonic scores, the musicians have offered more often, in recent years, difficult and ambitious acappella compositions. Such a program consisting of masterpieces of the genre by Franz Schuber and Johannes Brahms, most of them even in the first audition on the Athenaeum stage, was chosen for the last choral concert of the 2020-2021 season scheduled for Wednesday, June 16th, at 19, in the Hall of the Romanian Athenaeum. The soloists Geanina Munteanu, Ștefania Boloș, Vasile Orheian, Florian Costea, Ionuț Popescu and the pianist Andrei Licareț will also contribute substantially to the success of this musical evening.
Wednesday, June 16th at 7 pm, Romanian Athenaeum
Choral concert WITH PUBLIC
"George Enescu" PhilharmonicChoir
Conductor
IOSIF ION PRUNNER
soloist
GEANINA MUNTEANU
ªTEFANIA BOLOª
VASILE ORHEIAN
FLORIAN COSTEA
IONUÞ POPESCU
The piano
ANDREI LICAREÞ
Time schedule
Franz Schubert
Begräbnisslied
Johannes Brahms
12 Liederund Romanzen, op. 44
Franz Schubert
Majestätsche Sonnenrosse
Drawing Fahne Donnerstürmewallte
Unendliche Freude
Trinklied im Winter
Willkommen, lieberschöner Mai
Trinklied
Fischerlied
Gondelfahrer
Im GegenwärtigenVergangenes
Johannes Brahms
Neue Liebeslieder, op. 65
Tickets (for 50% of thehallcapacity) can be purchased, starting withWednesday, June 2nd, at 12 noon:
- From the Ticket Office of the Romanian Athenaeum
Schedule: Tuesday - Friday 12:00 - 19:00. Payment only in cash.
Phone: 021.315.68.75
- Online, accessing the website www.fge.org.ro - "Calendar" section.
Ticketprices are:
Category I: 45
Category II: 40
The entrance to the concert is allowed until 18.50 and the public is asked to respect the rules imposed by protection and distance.

Translated by Alma Teodora Miron,
University of Bucharest, Faculty of Foreign Languages and Literatures, MTTLC, year I
Corrected by Silvia Petrescu