> [Archived] Events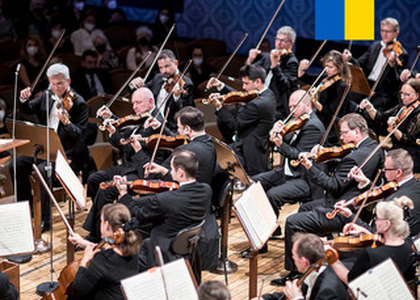 Extraordinary concert of the Czech Radio in support of Ukraine, Monday, March 14th, 2022, 8:30 p.m.
Monday, 7 March 2022 , ora 14.06

The Prague Radio Symphony Orchestra and conductor Petr Popelka invite us to a very special event, the Extraordinary Concert "Czech Radio for Ukraine", an expression of sympathy for all Ukrainians who are facing unparalleled aggression, at this sad time for humanity.
Radio România Muzical will take over this live concert with a program that will combine the music of Ukrainian and Czech composers and will take place at the "Rudolfinum" in Prague, a historic cultural centre from the 19th century that houses a concert hall, an art gallery and several showrooms.
The opening hours of the evening will feature the national anthems of the two countries, the Czech Republic and Ukraine, performed by the Children's Choir of Czech Broadcasting conducted by VěraHrdinková.
This will be followed by "Elegia" by the most important living composer of Ukraine, Valentin Sylvestrov, then the Concerto op.91 in B flat major for horn and orchestra by another musician of Ukrainian origin, Reinhold Glière. You will be able to listen to Radek Baborák as a soloist. Throughout his career, which began more than 25 years ago, this Czech performer has captivated audiences in Europe's most important concert halls and has collaborated with renowned conductors including Daniel Barenboim, Seiji Ozawa, Simon Rattle, NeemeJärvi, James Levine, Vladimir Askhenazy, James de Priest and Marek Janowski. From 2003 to 2010, Radek Baborák was the principal horn player of the Berlin Philharmonic.
In the second part of the concert, the Prague Radio Symphony Orchestra conducted by Petr Popelka will perform the Ninth Symphony op. 95 in E minor "From the New World" by Antonín Dvořák, a monumental work in four parts, the second, Largo, being recognized for its glamorous nostalgia.
Petr Popelka is currently the Principal Conductor of the Norwegian Broadcasting Orchestra, but he has been appointed Principal Conductor and Artistic Director of the Prague Broadcasting Symphony Orchestra, a position he will take over from September 2022.
Photo credit: Vojtěch Brtnický
Laura Ana Mânzat
Translated by Elena Crețu,
University of Bucharest, Faculty of Foreign Languages and Literatures, MTTLC, year II
Corrected by Silvia Petrescu