> [Archived] Events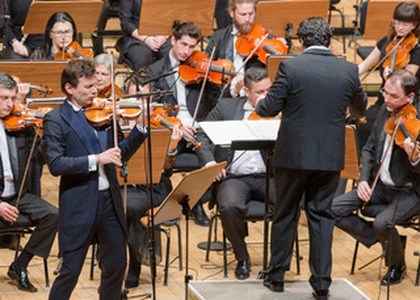 "Radio România Muzical - 25" Nights. Violonist Alexandru Tomescu, the National Radio Orchestra and conductor Cristian Macelaru
Monday, 4 April 2022 , ora 9.48

On Friday, the 25th of March, for its 25th anniversary, Radio România Muzical offered the audience a concert, which was extraordinary not only for the high caliber musicians who performed it, but also for the beauty of the repertoire presented by violinist Alexandru Tomescu and conductor Cristian Macelaru. More on that in Lucian Haralambie's coverage of the event:
The third night of "Radio România Muzical - 25" unfolded with Sala Radio at full capacity, for the first time in more than two years. The National Radio Orchestra performed alongside two of the most internationally recognized Romanian musicians - violonist Alexandru Tomescu and conductor Cristian Macelaru. Sergey Prokofiev's "Concerto No. 2 in G Minor" was the first piece performed.
"For me, it was a happy reunion as it's been more than two years since I've seen Sala Radio so full and with such a fantastical vibration. I think the performance was on par with the importance and consistency of today's celebration. I hope for more such celebrations - for the 26th anniversary… and for the 27th… and for the 50th… Not many people realize and know to appreciate what they have when they have it, and I think we should appreciate the Radio România Muzical station for as long as it's active. Its mission is very important, even more so with the times being as they are - troubled and dramatic. I believe music can give us the stability we need." - violonist Alexandru Tomescu
Razvan Ioan Dinca, President and Managing Director of Radio România Muzical, talked about the first half of the concert: "First of all, happy anniversary, Radio România Muzical! The celebration couldn't have been more beautiful than this - with such a repertoire and such talented musicians on stage. Today's guest, the great master Macelaru, as well as Alexandru Tomescu have outdone themselves. Alexandru Tomescu's virtuosity, paired with the divine talent of this exceptional conductor have transformed the venue. It hasn't been like this in a long time, and I was hoping to see it this way again - filled and full of energy. This story gives us hope, because the last couple of years have been so uncertain as far as the future of music and performances is concerned. Such a comeback - as it is practically the first time the venue held such a remarkable event at full capacity - can only mean that it's not over, this is just the beginning."
Gustav Mahler's "Symphony No. 5" in the second half of the concert completed a lively and emotionally charged evening. Ms. Mihaela Dobos, the first Director of the Radio România Muzical station was also in attendance: "I felt an overwhelming emotion, that's all I can say. It's been a long time since I've felt so impressed. Cristian Macelaru is a magician! He transported us into another world. I never thought such a world existed, a world of perfection. It was all so intense, hence the audience's reaction. These are three artistic forces of exceptional quality - the National Radio Orchestra, Alexandru Tomescu, Cristian Macelaru - who stand among the greatest performers in the world. I wish them good luck, and congratulate them from the bottom of my heart for this evening, as there couldn't have been a more spectacular finale to these events celebrating the 25th anniversary of the Radio România Muzical station. Happy anniversary, Radio România Muzical! Happy anniversary to all colleagues, both current and former!"
Playwright and prose writer Radu F. Alexandru: "It was such a joy befitting this absolutely extraordinary event! This "Radio România Muzical - 25" anniversary is not a chronological anniversary, but one of extraordinary accomplishment. I think, without any exaggeration, that Radio România Muzical is one of the most admirable forms of a harmonious evolution, an evolution that fills a gap. Radio România Muzical has been growing since inception! As time went by, its indisputable value has been confirmed. Without any exaggeration, Radio România Muzical is so present and, I emphasize, so necessary in the homes of so many people today- and when I say homes I mean the minds and souls of so many people. Happy anniversary, Radio România Muzical! And I must add, with emphasis…Thank you, Radio România Muzical!"
At the end of the concert, the Casa Radio publishing house launched three albums for the "Radio România Muzical" collection, namely "Concerto - Alexandru Tomescu", "Cristian Măcelaru, Orchestra Națională Radio. Ceaikovski, Dvoűák", and "Romanian Chamber Orchestra, Cristian Măcelaru. Schubert, Dvoűák". In attendance at the event were violonist Alexandru Tomescu, Liliana Staicu, Manager for Radio România Muzical and conductor Cristian Măcelaru, who spoke about the Radio România Muzical anniversary:
"It's difficult to express in words how important I believe the role of Radio România Muzical to be in our country. In a way, it's the beacon of light keeping cultural life alive, keeping music alive, because through its radio and internet channels it manages to reach its audience, the people who listen to music. The quality of what is transmitted is also of importance, as it is selected by diligent, knowledgeable and intelligent people, who are passionate about their work, and who present to the audience music that helps from within, that creates a deeper, purer spirit. They have been doing so for the past 25 years. I want to draw attention to the fact that art, usually, can be understood in the general context only when it's gone. Personally, I never want to experience something like that. Culture is important, it's necessary, it's something that shouldn't be received only for free, but rather something we must invest in. We, as a society, as a mature society, as a mature European society, are responsible - not only for us, but for our children and the future generations - to leave a society that cares about culture, about classical music, and art - about these things that have been a constant part of human civilization for centuries. Our responsibility now is not to expect direct results, but to establish these reference points called music and art. We invest in culture because we love our children!"

Photo: Alexandru Dolea

Translated by Ioana Diana Sandu,
University of Bucharest, Faculty of Foreign Languages and Literatures, MTTLC, year I
Corrected by Silvia Petrescu