Disk of 2017 > [Archived] Clasic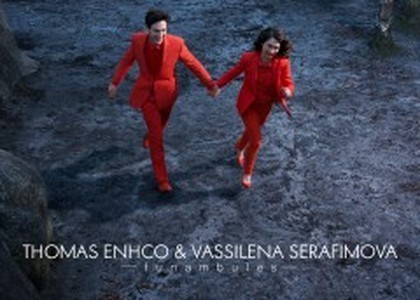 Funambules - brand-new album broadcasted on the 11th of January at CD Review
Wednesday, 11 January 2017 , ora 14.11

The album, signed by Vassilena Serafimova - marimba, and Thomas Enhco - piano, was released by the Deutsche Grammophon Publishing House and it contains works by Johann Sebastian Bach, Wolfgang Amadeus Mozart, Gabriel Fauré, and Camille Saint-Saëns, along with some of the instrumentalists' own compositions.

Thomas Enhco and Vassilena Serafimova
For over 7 years, the pianist Thomas Enhco and the percussionist Vassilena Serafimova have formed a duo whose activity has been given definite form on a disc on the 8th of April 2016, on their debut album, released at the Deutsche Grammophon Publishing House, under the title of Funambules. An album situated "on a knife-edge" at the confluence between genres, from classical to jazz, with improvisations influenced by contemporary music.
Thomas Enhco is a pianist, the youngest son of the renowned French conductor Jean-Claude Casadesus, who has, however, directed his career towards jazz. When he was only 13 years old, he was noticed by the American drum-player, Peter Erskin, who offered him to be his accompaniment on his debut album. In 2013, Thomas Enhco won the Victoire du Jazz Revelation of the Year Award, at the ceremony held in France every year, which acclaims international jazz achievements.
Of the Bulgarian percussionist Vassilena Serafimova I can tell you that she has trained at the Russian music school. She is considered to be one of the most distinguished marimba players of our time. The control she has over the instrument is remarkable, thus making it reveal expressive possibilities which are, I dare say, unexpected.

Funambules
What is interesting about this debut album of the two instrumentalists is the interaction between the two instruments, the piano and the marimba. Vassilena Serafimova and Thomas Enhco attempt and succeed in naturally interpreting Bach, Mozart, Saint-Saëns, or Fauré, without losing any of the chosen scores' essence. In stark contrast on this album comes their take on their own compositions. I would say it is an improvisational frenzy which is unleashed after the two of them have seemed almost constrained in the formal dress they've imposed on themselves in order to play the classical sheets.
Actually, this duo has a desire to show that they can play almost anything, that this novel timbral combination, as I was saying, can keep intact the essence of famous classical sheets, and, even more than that, that it can add something to the interpretation of this music. I bring to attention the way in which, for example, Vassilena Serafimova transforms the marimba's timbre, making it resemble the organ, the bassoon, or the cello, especially in Gabriel Fauré's Pavane, Op. 50, and the crystal shine the two seek and find in the interpretation of Mozart's Sonata for Two Pianos in D, KV448.
I invite you to listen, on the 11th of January, to two classical sheets in this novel instrumental combination, the Fuga of Sonata No. 1 in G minor for Solo Violin, BWV 1001, and the already mentioned Mozart opus.
Gabriel Marica
Translated by Adriana-Cătălina Grigore
MTTLC 1st year, University of Bucharest