Disk of 2017 > [Archived] Clasic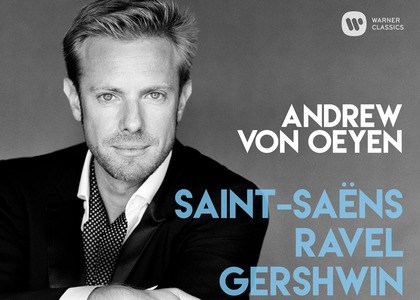 Pianist Andrew von Oyen - album in premiere: CD Review, February 9th and 10th
Wednesday, 8 February 2017 , ora 15.08

Andrew von Oyen - an American living in Paris
Internationally acclaimed for his elegant interpretations, balanced artristy and brilliant technique, Andrew von Oeyen was noted as being one of the most exciting pianists of his generation.
He debuted at 16 with the Phillarmnic Orchestra of Los Angeles, conducted by Esa-Pekka Salonen has built a repertoire as comprehensive as possible, focused primarily on the romantic and modern piano literature, has performed so far n important stages in North America, Asia and France, has given recitals at Wigmore Hall in Washington, Symphony Hall in Boston, Tonhalle in Zurich, Tchaikovsky Hall in Moscow, Hall Bolshoi in St. Petersburg, but also in Bucharest. Here are biographical markers of the young pianist Andrew von Oyen, an American who also live in Paris, with German and Dutch roots, who studied at Julliard School in New York, wilth Alfred Brendel and Leon Fleischer.
Los Angeles Times says about Andrew von Oeyen, he has compelling offerings and an extravagant, complete and effortless technique. Meanwhile, in France, Le Monde de la Musique said that Andrew von Oeyen has a technique with a remarkable fluidity, without losing its accuracy and balance in interpretation, but especially a disarming elegance and charisma that allows him to communicate with utmost ease.
I am grateful for the opportunity that I have to live between two continents, says Andrew von Oeyen. Half-joking he added: I am extremely fortunate that this profession allows it. I often say that if somebody would hold a gun to my head and forced to choose between Europe and America, I would probably choose to be shot! As a musician of the XXI Century, I like to think that my passport is less important and has nothing to do with my artistic thinking
Andrew von Oeyen chose to be an artist of the world that link musical cultures through its mode of interpretation. His debut album on Warner Classics House is a proof of this.

Saint-SaŽns, Ravel and Gershwin
An album with a program, Saint-SaŽns, Ravel and Gershwin, Concerto in G for piano by Maurice Ravel representing the thread unifying the disc, that work influenced on one hand by the color and elegance of the 5 piano concertos of Saint-SaŽns, and on the other side by the freedom of expression that Rave found in American jazz represented by George Gershwin.
Among the works of the American composer, for his album, Andrew chose Second Rhapsody for piano and orchestra which, even if it hasn't achieved the fame of Rhapsody in Blue, says the piaist: it has all of Gershwin's genius qualities which in my pinon, sometimes exceeds the prototype created by him. Certainly, the Second Rhapsody for piano, deserves to be sung often.
The work star of the album, is the well known Concerto No.2 for piano and orchestra by Camille Saint-SaŽns, interpreted in a very fresh manner. Andrew von Oeyen is a piano virtuosic, he ahs a brilliant techinque that helps to solve natural passages of virtuosity. It has a decent phrasing, shades to match, but what the pianist brings new , if I may say so, is the connection through the interpretation in which he finds it and creates the three great works of his album.
Alongside the pianist, recordings were made by the "Philarmonia" Orchestra in Prague, ensemble led by its musical director and principal conductor, Emmanuel Villaume, a frenchman who is doing very well in the United States, given the quality of the musical director of the Opera House in Dallas and with the frequency with which it appears on the concert stage in North America.
I must mention that the pianist added in his program as a bonus, Meditation from work Thais by Jules Massenet, the solo version for piano.
The conclusion is that Andrew von Oeyen's album is an album to be listen completly, but also, depending on the preferences of the opposites' creators. It's an album that from a technical point of view, it was well thought and perfectly realized.
I invite you to listen Andrew von Oyen on CD Review, on 9th and 10th February at 11.30.
Gabriel Marica
Translated by Alexandra Stefan MTTLC 2nd year promotia 2014