Disk of 2017 > [Archived] Clasic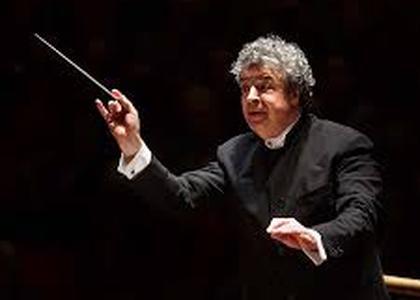 Conductor Semyon Bychkov, at the desk of the Vienna Philharmonic Orchestra - CD Review, 9th of June 2017
Friday, 9 June 2017 , ora 9.08

Symphony No. 2 in E flatwas premierly recorded by the Vienna Philharmonic Orchestra, conducted by Semyon Bychkov.
The record has within its repertoire the Symphonic Interlude from Intermezzo, by Richard Strauss. The album was launched on the 2nd of June 2017 and it is included in the "Albums of 2017" project.
Semyon Bychkov, one of the conductors of the moment.
The maestro has a discographic activity filled with recent accomplishments. The recording of Lohengrin, by Richard Wagner, with the Cologne Radio Orchestra, was voted by BBC Music Magazine as Recording of the Year in 2010, while the album comprising the opera Evgheni Onegin by Pyotr Ilych Tchaikovsky, performed with the Paris Orchestra, was labeled by the Opera magazine as being in the top 30 exceptional recordings of all time. In 2016, along with the Czech Philharmonic Orchestra, Seymon Bychkov launched the Tchaikovsky Project, a series of recordings that will comprise the entire collection of symphonies, piano concetros written by the Russian composer, as well as some orchestral works selected by the conductor.
A neglected masterpiece
The album that was launched on the 2nd of June was recorded in the famous Golden Hall at the Musikverein. In their program, they have two composers: Richard Strauss and Franz Schmidt. Beyond the Symphonic Interlude from Intermezzo, by Richard Strauss, the main piece of the program is Symphony No. 2 in E flat by Franz Schmidt. We will be listening to this symphony signed by the Austrian composer, who was also the cellist for the Vienna Philharmonic Orchestra for a period of time, and afterwards, he was a professor at the Conservatory in the capital city of Austria, he contributed to nurturing a new generation of musicians, who have also been part of the renowned ensemble. His work, also caracterized as "a neglected masterpiece" by the critics, had its first audition in 1913 with the Court Opera Orchestra, conducted by Franz Schalk, this work also being dedicated to him, later on, and, in 1914, it was performed for the first time by the Vienna Philharmonic Orchestra. The conductor from that concert was Felix Weingartner.
Seymon Bychkov interpreted the symphony for the first time while conducting the Vienna Philharmonic Orchestra, in a concert at Musikverein, in 2014. He answered the requests of the orchestra members, who wished to perform this work, and then record it on an album, recording that we will be listening to at CD Review, in premiere. We can also add that Seymon Bychkov and the Vienna Philharmonic Orchestra were invited to perform the Symphony No. 2 in E flat by Schmidt at the BBC Proms Festival, in its 2015 edition.
Cristian Marica
Translated by Ruxandra Vorotneac,
MTTLC 1st Year University of Bucharest