Disk of 2017 > [Archived] Clasic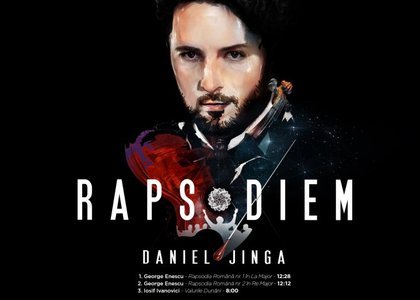 Daniel Jinga: Rapsodiem - CD Review, 8th of May 2017
Monday, 8 May 2017 , ora 11.09

The albums recorded by a conductor are usually an image of a prolonged career, a collection established in time, with a lot of accumulated pieces of music or a project born out of passion. The album Rapsodiem, signed by Daniel Jinga, can be placed in the second category. As the title doesn't disclose much, the disc launched on the 15th of March this year comprises the two Romanian Rhapsodies. Even from the description, we understand that all of those who are involved in this project made it out of love for Enescu's music, not out of the desire to break new barriers. And furthermore, there are so many different versions for "reference", made by conductors such as Sergiu Celibidache, Constantin Silvestri, Cristian Mandeal and even Leonard Bernstein, with his atypical version of the 1st Rhapsody, that sometimes you ask yourself what's the use of such an artistic endeavour. Nevertheless, Daniel Jinga's effort was not in vain. We are dealing with an album that sounds great, a recording quality that stands very tall, with a fresh feeling. The recordings were made in the Electrecord studios, with the help of sound engineer Jakob Handel. The orchestras that took part in this project were the Bucharest Metropolitan Orchestra and the Muntenia Symphonic Orchestra, Daniel Jinga being the main conductor for the last one.
The interpretation on this album is an honest one, most of the tempos being chosen in spirit of the other works of Enescu that were recorded. The solo interventions sound good, especially when we have fragments, such as the viola solo from the first Rhapsody, where we encounter problems even in the reference variants. The 2nd Rhapsody, in my oppinion, has a much more meditative feeling than the first one. It needs a rather large ensemble and it has certain elements that make it more difficult to interpret than the first one. In this case, the album takes a rather safe and gentle course, not trying a lot of artifices. It has a tempo that's slightly more upbeat than we would have expected, it has a certain reluctance when it comes to the dynamic range, but the sound is beautifully coloured and picturesque. We must mention that the Rapsodiem album also contains the Waves of the Danube waltz, by Joseph Ivanovic, as a type of encore at the end.
If I were to reproach something regarding this album, it would be the fact that it's too short. All the works, added together, take a little bit more than 32 minutes, so, while having a short drive into town, you'd be able to listen to the whole album in one take. Other than that, it is a quality recording of a well known and pleasant music.
Radu Mihalache
Translated by Ruxandra Vorotneac,
MTTLC 1ST Year University of Bucharest