Disk of 2017 > [Archived] Clasic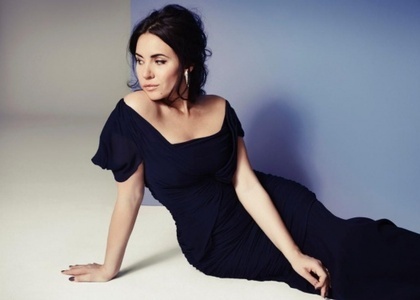 Handel - an album by the soprano Sonya Yoncheva - for the first time at CD Review, on the 2nd and 3rd of February
Thursday, 2 February 2017 , ora 10.09

The best Traviata in the world
These are the words of praise for the Bulgarian soprano Sonya Yoncheva, according to the Die Welt magazine. She is one of the fastest rising opera singers, after winning the Operalia award in 2010, at the Placido Domingo Contest, hosted by La Scala, Milano. Sonya Yoncheva is adored by the public of the Metropolitan Opera, Royal Opera House, Bayerische Staatsoper, Berlin State Opera, Wiener Staatsoper and the Paris Opera. The Handel album is considered to be a homecoming for this greatly talented singer, because it was the baroque music which shaped her as an artist. I say once again that Sonya Yoncheva has made herself known in the famous Le Jardin des Voix ensemble, conducted by William Christie. Her vocal expression allows her to embody Handel's heroines, such as Agrippina, Alcina, and Cleopatra, in a truly special way.
The Handel Album - The Album of Powerful Women
This is the first record of its kind in the world of lyrical theatre. The album is performed by Sonya Yoncheva and edited by Sony Classical Records, and it will be released on the 3rd of February. It is a recital-collection of arias from George Frideric Handel's operas, such as Giulio Cesare in Egitto HWV 17, Alcina HWV 34, Rinaldo HWV 7, Agrippina HWV 6, Rodelinda, regina de' Langobardi, HWV 19 and Theodora HWV 68. The album also has a bonus track, a movement chosen from the Dido and Aeneas Z. 626 opera, by Henry Purcell.
For Sonya Yoncheva, Handel's heroines appear as powerful, independent, passionate women, who have inspired many generations across the ages. Cleopatra, the Queen of Egypt, is exceptionally ambitious in her political beliefs, but behind this there is a surprising fragility. Like a real magician, Sonya Yoncheva succeeds in embodying Alcina, immersing herself in a deep passion, a character with a rich emotional palette, ranging from hope to despair. Every aria, every name on this recital is a portrait shrouded in legend that becomes real owing to that surprising emotional palette which Sonya Yoncheva manages to portray so skillfully.
The soprano plans to go on a tour to promote the Handel album, from the 3rd of March to mid-April.
These are the premises of an exceptional audition on the 2nd and 3rd of February, at CD Review (12:15).
Gabriel Marica
Translated by Adriana-Cătălina Grigore,
MTTLC 1st year, University of Bucharest