Disk of 2017 > [Archived] Clasic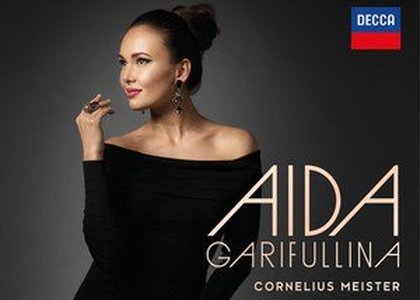 The debut album of soprano Aida Garifullina - Music Box, 20th of February
Monday, 20 February 2017 , ora 11.54

We have the opportynity to premierly listen the debut album of Russian soprano Aida Garifullina, whom we can also associate with arias and songs from the French and Russian repertoire, an album launched on the 3rd of February at Decca Records.
In my oppinion, Vocalise op. 34, no. 14 by Sergei Rachmaninoff is the emblematic work for this debut album, it emphasizes the beauty of this 29-year-old singer, who was launched on the path of an international career after winning the Operalia contest, organized by Placido Domingo in 2013.
Adia Garifullina has a versatile voice with a tone that's easily fit to lyrics. The coloratura repertoire fits her like a glove, impressing everybody with the certain and very well placed high notes. It was not by chance that two coloratura arias are opening her debut album, recorded along with the Vienna Radio Orchestra, conducted by Cornelius Meister: Juliet's aria from the opera Romeo and Juliet, by Charles Gounod, and the impressive Bell Song from the soundtrack of the movie Florence Foster Jenkins, starring Meryl Streep.
Aida Garifullina has signed a contract with Decca Records since 2015. Surely, her CV already contained highly important elements, but I believe that what also mattered a lot was Aida Garifullina's part in the movie Florence Foster Jenkins, ensuring her worldwide exposure. In this movie, Aida Garifullina is the protagonist in a sequence, playing the famous coloratura soprano Lily Pons and interpreting the Bell Song, sequence that can always be watched on YouTube.
Obviousely, Aida Garifullina feels comfortable interpreting her Russian repertoire, as expected, of course. One of the arias that she interpreted for the Operalia contest that she won in 2013 was signed by Russian Nikolai Rimski-Korsakov, aria that she also recorded on this album, along with arias from Sadko, The Snow Maiden, The Golden Cockerel and the Orental Romance of 4 songs op. 2, also by Rimski-Korsakov.
Garifullina had the wits to propose an uncommon repertoire for her debut album, putting beautiful but lesser known works among the audience, together with famous works. Some of them are songs from the Tatar folclore, without forgetting that she originates from the Tatarstan Republic and she has the oriental traits of the Tatars herself.
Aida Garifullina, a 29-year-old soprano, born in Kazan, and having studied in Nurnberg and Vienna. A singer that has also flirted with pop music, thing you can easily discover with a search on YouTube.
2013 was the year of vital encounters for Garifullina. She met Valery Gergiev, that invited her to sing at the Mariinski Theater in Sankt Petersburg, and, secondly, she met the jury of the Operalia contest, that awarded her the 1st Prize. After the Operalia success, Garifullina appeared in shows with Placido Domingo and other famous names of contemporary lyrical theater, and was invited to become a member of the State Opera ensemble in Vienna, where she would remain until 2016.
"An impressive debut album", "Garifullina appears as a stylish, elegant performer, with an impecable technique", "she has a bright future ahead of her" - these are just extracts from the reviews that appeared worldwide about the Russian soprano's album.
Aida Garifullina indeed has an outstanding voice, driven by a great technique, a rare voice, with a colourfulness that allows her to tackle difficult works such as the Bell Song from the opera Lakme. What's more, Aida Garifullina convinces through inner sensitivity and experience. Last, but not least, she is a ravishing woman. Yes, she has all the traits of becoming a superstar of today's opera.
Aida Garifullina's album can be listened to at Radio România Muzica on Monday, the 20th of February, starting at 8 PM, and on rerun on Sunday, the 26th of February, starting at 1:05 PM.
Cristina Comandașu
Translated by Ruxandra Vorotneac,
MTTLC 1ST Year University of Bucharest