Disk of 2017 > [Archived] Clasic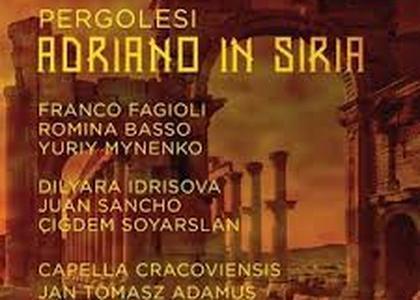 Adriano in Siria with Franco Fagioli at An evening at the Opera
Sunday, 26 March 2017 , ora 11.44

The current to rediscover the art of the 17th and the 18th centuries that started decades ago is still going strong. It is a joy to find out that the appetite for music played on vintage instruments has not been reduced, that the struggle to obtain lost manuscripts, followed by the research of the found materials, still excites the specialists. Moreover it is clear that they are stimulated in their actions by the preferences of the public and by the availability of the performers.
Therefore, this Sunday, 26 March 2017, at An Evening at the Opera we won't listen to the recording of a show, but to the recording of a disc. A new album, released on 4 November 2016 by DECCA House. Adriano in Siria is the work of Pergolesi that producers have chosen to bring to the attention of the public. The most famous name on the disc is the countertenor Franco Fagioli, who performs the score of Farnaspe, the prince of Parthia (a region located in the north-eastern part of Iran today). The title role of the Roman Emperor Adriano is sung by another great countertenor Yuriy Mynenko the less known Ukrainian. In the other scores, almost all female scores, you will hear the contralto Romina Basso, Adriano's prisoner and Farnaspe's mistress, the soprano Dilyara Idrisova, Adriano's lover, to whom she is also promised. Here, the Turkish soprano Çiǧdem Soyarslan performs a trouser role - she is Aquilio, a spokesman, confidant of Adriani and Sabina's lover. Juan Sancho is the third male voice present here, in fact the only one truly masculine, as he is tenor and performs Osroa, the King of Partha and Emirena's father.
Adriano in Siria is a work written by Giovanni Battista Pergolesi, an artist who died at the age of 26, famous for his work, especially due to his creation buffe La serva Padrona. The libretto of this work belongs to Pietro Trapassi, known as Metastasio. The theme of the work and a very popular subject to the Baroque and to the artists of those times is the struggle between duty and love.
The artists are accompanied by the Polish ensemble Capella Cracoviensis, who performs on vintage instruments and they are also under the bandmaster leadership of Jan Tomasz Adamus.
Irina Cristina Vasilescu
Translated by Elisabeta Motoi,
MTTLC 1st year University of Bucharest