Disk of 2017 > [Archived] Clasic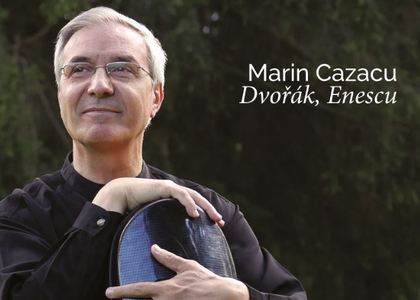 Dvorak and Enescu in cellist Marin Cazacu's version – CD Review on the 4th and 5th of October!
Monday, 9 October 2017 , ora 8.37

On the 4th and 5th of October we invite you to a new editorial show organized by Casa Radio Publishing House, a compact disc released this autumn that you can hear for the first time at Radio România Muzical. The album called "Dvorak, Enescu", included in "The discs of 2017" project brings to the foreground the most important cellist of the time, a complex, multifaceted artist, who has turned 61 on the 30th of September this year. Marin Cazacu, a well-known performer of the Romanian musical industry, is a soloist always cheered for the taste and the coherence of his sonorous versions. He is the teacher that all young cellists who want to gain fame on our national stages and not only want to learn from, the promotor of the chamber ensemble Violoncellisimo, of the International Festival Enescu and the World Music in Sinaia and not last, the mentor of the Romanian Youth Orchestra. Moreover, since 2014 he has been the new manager of the "Tinerimea Română" Art Center, which makes him a polyvalent musician, who excels in all the fields he performs in. This is due to his permanent positive attitude, always seeking a new level of performance and balance. The compact disc edited by Casa Radio Publishing House brings together musical works composed at a six-year difference and which share the same tonality, Concerto op. 104 in minor by Antonin Dvorak and Symphony op. 8 by George Enescu, both opuses recorded together with Radio National Orchestra in 2000 and, respectively, 1995.
"If I had known that it was possible to compose such a cello concerto, I would have ventured myself into it", Johannes Brahms declared admiringly about Concerto for Violin and Orchestra in minor, composed by Antonin Dvorak. Beyond its sinuous story, including its romantic nuances, reencountered in the second and last section of the final movement, where Dvorak included a thrilling tribute to his first love, who happened to be his sister-in-law, this work is, strictly from a musical point of view, a captivating demonstration of melodic richness. The Czech author lets his creativity and originality flow, counting not so much on the magnificence of the virtuosos, even if this is not neglected, as on a construction of harmonious coherence between the soloist and the orchestra. Marin Cazacu's interpretation in Concerto for Violin and Orchestra composed by Antonin Dvorak is impressive thanks to the clarity and coherence of the execution, where the sentimental side is rigorously controlled, not falling even for a moment into preciosity or aridity. There is melancholy, emotion, technical agility, brilliance and a lot of energy in the interpretation that the Romanian cellist offers.
As concerns Symphonie Concertante for Cello and Orchestra, op.8 composed by George Enescu, the late artist Pascal Bentoiu admitted that in understanding this part he found a great help in the version interpreted by Marin Cazacu, a great connoisseur of Enescu's opus, where the Romanian cellist, even if notices echoes from Brahms, Wagner and Strauss, pays attention, according to his own affirmation, not to fall into the trap of phrasing in the style of those composers. Not the romantic sweetness, as Marin Cazacu defines it, is the key to a good interpretation of Symphonie Concertante for Cello and Orchestra op. 8, but a collection of much more efficient elements, though not at anyone's hand, namely rhythmic rigor and following to the beat; and his version from 1995, included in "Dvorka, Enescu" compact-disc, together with Radio National Orchestra conducted by Horia Andreescu is a real reference point of interpretation. You can feel both the rigor and the control of the beat, the well-performed and excellently mastered romantic influences, the fluidity of the execution and, and most of all, you can feel the competent vision of the specialist who has taken this complex part into his hands, with maximum of attention, integrating it into the eloquence of an expressivity that serves, first of all, the Music, always written in capitals.
We invite you to discover for yourself these significant interpretations, by listening to CD Review rubric on 4th and 5th of October 2017!
Ioana Marghita
Translated by Răduțoiu Elena-Alexandra, M2