Disk of 2017 > [Archived] Clasic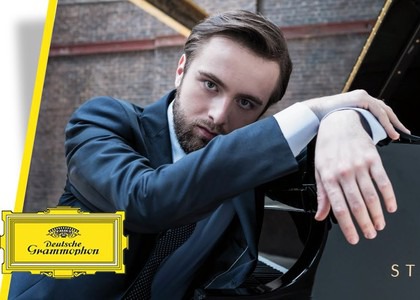 Title: The pianist Daniil Trifonov - the album Chopin evocations: Music box, 16th and 23rd of October
Friday, 13 October 2017 , ora 11.26

An album released on 6th of October 2017 by the Deutsche Grammophon record company, an album which contains two Cds signed by the 26-year-old pianist Daniil Trifonov, one of the most loved artists from "Enescu" Festival in 2017. The name of the album, where we can find the two concerts for piano and orchestra by Chopin, is Chopin evocations and the concerts were recorded together with Mahler Chamber Orchestra led by Mihail Pletniov the one who also signs the new orchestration of these two concerts.
In addition, tunes for solo piano by Chopin, from opera 2 to opera 73, as well as tunes inspired by Frederic Chopin - from Schumann to Federico Mompou.
The album starts with an extraordinary version of Concert number 2 for Piano and Orchestra by Frederic Chopin. Concert number 2 by Chopin, that has a new orchestral sound given by Mihail Pletniov and that also fits best with Daniil Trifonov" s personality who is also the soloist of the recording, is one of the best known concert for piano and orchestra.
I find him an introverted and extremely sensitive personality which can be heard especially from the exceptional and sheer music performance of the second part during the concert, one of the best slow parts in the concert from the history of music.
Chopin - an iconic figure for every piano player - "Chopin s music remains modern for every piano player" says Daniil Trifonov in his releasing interview of the disc named Chopin evocations. No matter what generation listens to his plays, people can discover something special in his music.
Daniil Trifonov also talks about the sincerity one can find in Chopin s music, which draws attention to the listener and to the player as well. Without doubt, I reckon there is no person to be impressed by Chopin s music - and Trifonov has, as well, this capacity of drawing people s attention, no matter what he performs.
From 2013 and up to now, he has released a new album each year: live performances in 2013 and 2014, Rahmaniov in 2015 and Liszt s studies in 2016. Daniil Trifonov was also nominated at Grammy s Awards for his album "Rahmaninov" from 2015.
Therefore , in 2017, a new album, of this 26-year-old pianist who had drawn the attention of the international concert world, being situated as one of the stars on the rise of the moment, appears.
A pianist who got schooled within the traditional Russian piano school, an extraordinary technical pianist and with an unbelievable power to send emotions; an inward-looking pianist with new visions for the well-known plays, a pianist who was spoken well of everybody and eulogistically, a pianist who also composes just like Rahmaninov or Lipatti did.
Chopin evocations - Chopin evoked in other composers " plays. Chopin from Suita Carnavalul op. 9 by Robert Schumann, Studiul Omagiu of Chopin op. 73, number 5 by Edvard Grieg, Nocturna op. 33 by Samuel Barber and Un poco di Chopin op. 72 by Potir Ilici Ceaikovski, who ends the first disk of the two albums.
The album Chopin evocations can be listened at Radio Romania Muzicala in two parts, on Monday 16th of October at 7 p.m. (and again on Sunday, 22nd of October at 1.05 p.m.) and on 23rd of October at 7 p.m. (and again on Sunday, 29th of October at 1.05 p.m.) or anytime on the site Discurile anului 2017.
Cristina Comandașu
Translated by Alexandra Ghencea, MTTLC, 1st year