Disk of 2017 > [Archived] Clasic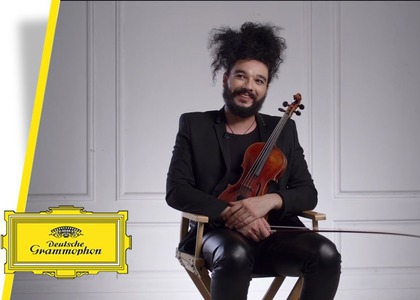 Tchaikovsky with the violinist Nemanja Radulovic – Music box, the 6th of November
Monday, 13 November 2017 , ora 10.11

After the "Journey East" album, released in 2015, the Serbian violinist Nemanja Radulovic, winner, among others, of the Enescu Competition in 2001, was promoted as one of the most interesting young violinists of our time. After all, "Journey East" has won an Echo Klassik award. Nemanja Radulovic is an unusual figure, with his long and wavy hair, the outfits befitting a rock star, and with his passionate and original interpretations. No, he isn't a David Garett - only his look is that of a rocker - while the way he plays stays in the realm of the traditional classical music, as does the repertoire he chooses. Last year, Nemanja Radulovic recorded a Bach album, and this year, a Tchaikovsky album, prepared, as the others, with a young public in mind, looking for something new. Of course, what can there be new in an interpretation of Tchaikovsky's renowned Concerto for Violin and Orchestra? Can a vision that exploits so much the Romantic part of the concert, that puts so much weight on emotion and on intensifying the intentions of the score? In a cold, over-technologized world, it might as well be that such small, emotional excesses are necessary; Radulovic is a virtuoso and very talented violinist. After all, this is what makes classical music so unique: versions of the same work that are so different - here we have now this Tchaikovsky a la Radulovic, and the Apollonian version of Lisa Batiashvili, released last year with Daniel Barenboim. Both valid, but so different!
The same kind of interpretation, that puts accent on the clear expression of the feelings that music conveys, translated in fluctuating tempos, we can also find, for example, in the second work on this album, a transcription by Yvan Cassar of Tchaikovsky's Variations on a Rococo Theme, a transcription for viola, piano, and orchestra. I must admit that there are certain piano moments that are beautifully made, in which Nemanja Radulovic proves himself to be, as he does in the whole work, also an amazing violinist. And that there is a very valid musical conception, despite the excesses of tempo and dynamic.
The new album signed by Nemanja Radulovic can be listened on Monday, the 6th of November, at 19.00, and again on Sunday, the 12th of November, at 13.05, or at any time on the website of the Albums of 2017 project.
Cristina Comandasu
Translated by Adriana-Cătălina Grigore,
MTTLC 2nd year, University of Bucharest