Disk of 2017 > [Archived] Clasic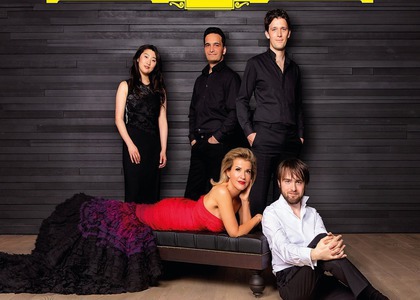 'The Trout' with Anne Sophie Mutter and Daniil Trifonov - Music box, November 20
Wednesday, 22 November 2017 , ora 11.08

On the 3rd of November 2017 a chamber music CD was released, on which we recognize well-known names: Anne Sophie Mutter and the pianist Daniil Trifonov. A new release of the Deutsche Grammophon record label, an album with two of the celebrities of the moment, with such different experiences and ages: Anne Sophie Mutter, with over 40 years in a career at the highest level, and the 26-year old youth, Daniil Trifonov. No less important are the other three musicians whose names we recognize on this CD, scholars of The Foundation for Young Musicians led by Anne Sophie Mutter: the South-Korean violist Hwayoon Lee, the German cellist, the exceptional cellist as Mutter herself presented him, Maximilian Hornung, and contrabassist Roman Patkolo, the one who in 2011 was also awarded with the Aida Stucki award by the Mutter Foundation. In June 2017, these five artists met in order to CD the famous Trout Quintet by Franz Schubert.
I remember Anne Sophie Mutter's remark in the video interview that accompanies the launch of this CD, regarding the fact that chamber music is the most emotional genre of classical music, and the emotions cannot be gray. So, get ready for a very colorful, animated, fresh, and skillful interpretation of the Trout Quintet by Franz Schubert. Along with the Trout Quintet, on this CD are three other pieces by Franz Schubert - the little-known Notturno D 897 for violin, cello, and piano, but also two other well-known pieces: "Standchen" from the "Swan Song" cycle and "Ave Maria", in transcriptions for violin and piano. There is much drama and liveliness in the interpretation proposed by Anne Sophie Mutter and Daniil Trifonov for these latter works; and an almost empathetic communication, the violinist's rubato speech being perfectly followed by the pianist. Indeed, this is a suitable disk for any moment and state, expansive in the first part, introverted in its second part. A meeting between two introverted musicians - Mutter and Trifonov - and an emotionally perturbing musical result.
The CD can be listened to on Radio Romania Music on Monday, November 20, at 19:00, with a rebroadcast on Sunday, November 26, at 13:05 or anytime, on the website of the CD of the year 2017 project.
Cristina Comandasu
Translated by Translated by Ivan Alexandra- Maria,
MTTLC 2nd year, University of Bucharest