Disk of 2017 > [Archived] Clasic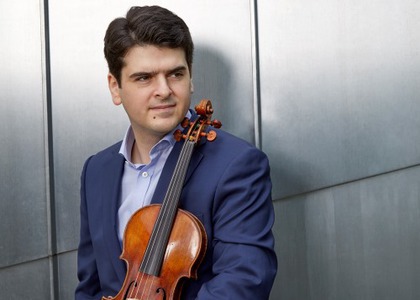 Violinist Michael Barenboim – the first album with solo works (Boulez, Bartok, Bach) at 'CD Review' on December 13th
Monday, 11 December 2017 , ora 10.21

In the "Discs of 2017" project started by Radio Romania Music, I present to you the first solo album recorded by Michael Barenboim, son of famous conductor and pianist Daniel Barenboim. Born in 1985 in Paris, the violinist studied at the Music College in Berlin with Axel Wilczok. He later turned to philosophy, which he studied at the Sorbonne in Paris.
The musician has a notable activity. He is concertmaster at the West-Eastern Divan Orchestra. He is also interested in chamber music -he has collaborated with artists like Alisa Weilerstein, Nikolaj Znaider or Radu Lupu. With regards to discographical projects, in 2015 Michael Barenboim released an album he worked at with his father and the Vienna Philharmonic Orchestra, where he performed Arnold Schoenberg's Concerto for violin and orchestra for the first time in front of an audience. The disc released at the beginning of 2017 is the first solo album recorded by violinist Michael Barenboim, a CD that drew praises from important European musical publications. The Strad considers the artist's interpretation to be "irreproachable, convincing and fascinating".
Designed as a solo recital, the album includes two works by Anthemes de Pierres Boulez, the Sonata for Solo Violin by Bela Bartok and the Sonata no. 3 in C Major BWV 1005 by Johann Sebastian Bach. A varied repertoire, with works from different stylistic areas, that depicts Michael Barenboim as a versatile and talented musician, with remarkable technical abilities. Regarding the selection of opuses for the album, the violinist has this to say in the booklet: "I wanted to choose works that can create a dialogue between each other and complement each other. My interpretations come from my desire to create a programmatic frame where the joining together of different works leads to a more profound and ample understanding of each one in particular."
From the album recorded by violinist Michael Barenboim we chose the Sonata no. 3 in C Major BWV 1005 by Johan Sebastian Bach. The work opens with a calm Adagio, whose ample melodic lines and slow, repetitive rhythms are sustained in a growing tension until the beginning of the second part, the Fugue, a movement with complex counterpoint structures that Michael Barenboim performs with the confidence of a musician who is comfortable with Bach's polyphonic style. In the third part, the Largo, the violinist unveils his lyrical and expressive qualities by underlining bright melodic contours, after which he concludes with an energetic Allegro assai, where he controls the balance of the dynamical plans.
Join me Wednesday, December 13th 2017, starting from 11.30, and listen to violinist Michael Barenboim at 'CD Review'.
Larisa Clempuș
Translated by George Arion Jr.,
MTTLC I, Universitatea București