Disk of 2017 > [Archived] Clasic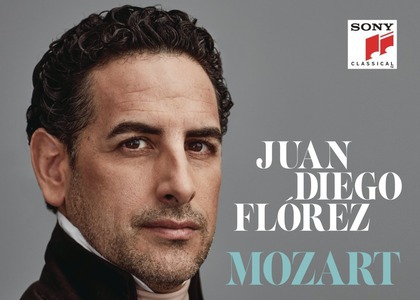 Mozart, with tenor Juan Diego Florez – Opera and its stars, December 11-14
Monday, 11 December 2017 , ora 12.21

Famous worldwide for his beautiful voice and brilliant high notes, Juan Diego Florez has lately focused on the Mozartian repertoire. Some say it might become a milestone in his career.
After seven DECCA albums - in various belcanto roles - Juan Diego Florez approaches the works of Mozart by making his debut at Sony Classical with the album Mozart. It's his most recent album, recorded alongside conductor Riccardo Minasi and the musicians of the La Scintilla Orchestra. "It's wonderful to explore Mozart's work", says the Peruvian tenor. "Everyone loves his music and believe me - you don't have to understand why you love it. This is Mozart's magic…" It is well-known that, until now, Juan Diego Florez has only sung Mozart in recitals and concerts, but with this disc music reviewers say that "some roles might fit him like a glove".
Mozart has played an important role in the tenor's career. "When I was 17", says the artist, "I switched my focus from rock and pop to opera. I was deeply inspired by the recordings of legendary singers of Mozart, such as Alfredo Kraus… I was amazed. Mozart became like magic for me, and his music helped me decide my path in life."
By putting together famous arias as well as lesser known ones in the ten tracks recorded for Sonny Classical, the Peruvian tenor explores "the two faces of Mozart". "We see the early composer, still rooted in the baroque tradition and in the virtuosity of the 18th century belcanto and we also see the more mature Mozart - the one we know better - in all his expressiveness and emotion", says the Peruvian tenor. "I am happy and privileged to sing these arias."
The disc called Mozart contains pages from "The Shepherd King", "Don Giovanni", "The Clemency of Titus", "Così fan tutte", "Idomeneo", "The Abduction from the Seraglio", "The Magic Flute" and a concert aria - K 431, "Misero. O sogno aura che intorno spiri".
The album released by Sonny Classical on October 6 can be heard this week on the section Opera and its stars from the show Arpeggio and is included in the project Discs of 2017. (Monday, December 11 - Thursday, 14 december, at 11.00).
Jeanine Costache
Translated by George Arion,
MTTLC I, Universitatea București