Disk of 2017 > [Archived] Clasic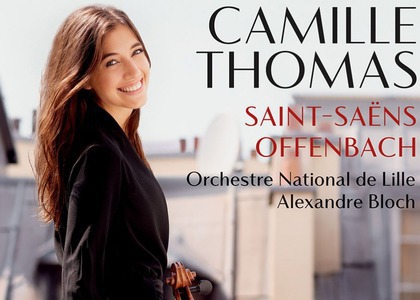 Violoncellist Camille Thomas – concertante pieces by Saint Saens and Offenbach
Monday, 11 December 2017 , ora 12.25

On October the 6th, Deutsche Grammophon house released the debut album of the Belgian violoncellist Camille Thomas containing pieces of French repertoire. Camille Thomas - it's a name which we have rarely heard, but it belongs to a violoncellist who Danish Broadcasters called "a new cello star". If you listen to this record, you will know that is not an exaggeration.
Camille Thomas is 29; she came to the attention of the whole musical world in 2014 when she won the only prize offered at the New Talent competition in Bratislava, organized by European Broadcasting Union. A year before, in 2013, the same prize was offered to the Romanian violoncellist Răzvan Stoica.
There are recorded pieces by Camille Saint Saens and Jacques Offenbach on the disk. Some of them are not so well-known, but there are also some famous ones, like Concerto no. 1 Op. 33 in A minor by Camille Saint Saens. They were recorded with the National Orchestra from Lille, conducted by Alexandre Bloch.
Camille Thomas studied the cello with Frans Helmerson at Hochschule fur Musik Hans Eisler in Berlin; Frans Helmerson has been on the Romanian stages many times, accompanied by his wife, the famous violinist Mihaela Martin.
There is something special with the way Camille Thomas plays - passionately, with intense energy and message - one cannot be indifferent when listening to her adaptations. From this point of view, I think she resembles Sol Gabetta, whose technical acuity is though a little better. Knowing that her first record at an important House should have something new and innovative, Camille Thomas included some little known pieces. This is the case for Suite op. 16b for violoncello and orchestra by Camille Saint Saens, a piece composed in 1866 and arranged in 1919, which seems to have been the creation that led Saint Saens to a successful career at that time.
I appreciate the Deutsche Grammophon Record House because it encourages valuable young artists who have a real chance of becoming stars on the international stages. After the violoncellist Francesca Dego, which we heard in November at Radio Romania Musical, now this young and deserving Belgian violoncellist is being promoted by an important discographic brand. A violoncellist who brings new features in the repertoire of an almost unknown opus 22 signed by Jacques Offenbach - Introduction, Priere et Bolero - a spectacular piece, especially in its allegro moments.
In March 2016, during the show presented by the tenor Rolando Villazon, violoncellist Camille Thomas was named by the famous tenor for Arte television one of the stars of the future in the music field.
Rolando Villazon also worked with Camille Thomas on her debut album at Deutsche Grammophon, where they sang together a composition from Jacques Offenbach's operetta, Parisian Life.
Not only Rolando Villazon was a guest star on the record, but also violinist Nemanja Radulovic, with whom Camille Thomas recorded a transcription of Barcarolle from "The Tales of Hoffmann" by Jacques Offenbach.
On the same record there was another unfamiliar piece signed by Jacques Offenbach, Les larmes de Jacqueline from the Suite op. 76 Harmonies des bois. A very successful moment of the record is the reproduction of the composition "Mon Coeur s'ouvre a ta voix" from Samson and Dalila by Camille Saint Saens.
The record signed by Camille Thomas will be broadcasted Monday, 11th of December, from 19 o'clock and Sunday, 17th of December, from 13:05 or any time on the project's site Records from 2017.
Cristina Comandasu
Translated by Anda Roberta Anton,
University of Bucharest, MTTLC, 1st year