Disk of 2017 > [Archived] Clasic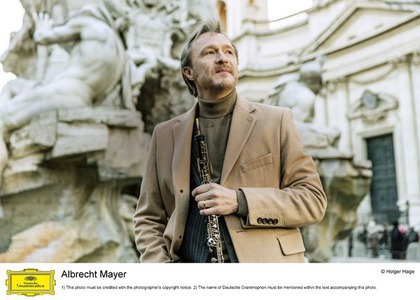 Oboist Albrecht Mayer – the 'Tesori d'Italia' album: Music box, November 27th
Monday, 18 December 2017 , ora 13.17

A new CD from oboist Albrecht Mayer - Tesori d'Italia - released on the 3rd of November 2017 at Deutsche Grammophon record label. The famous oboist, who is, for that matter, the most famous oboist of today - is backed by the I Musici ensemble from Rome, who has already become a brand for their interpretation of old music.
Tesori d'Italia is a follow-up ideation of Albrecht Mayer's project, one that began with the release of his Lost and found album in 2015, which was available for you to listen to on Radio Romania Muzical as well. On his quest to discover or rediscover scores dedicated to the oboe, Albrecht Mayer searched through archives across all of Europe; after the classic concerts from the Lost and found album, he puts forward a series of baroque concerts for Tesori d'Italia - Vivaldi, Giuseppe Sammartini, Domenico Elmi, Giovanni Alberto Ristori - some composers are well-known to us, others are completely unfamiliar.
Out of the six concerts that Albrecht Mayer has recorded for Tesori d'Italia, two concerts appear for the first time ever on a disc - Domenico Elmi's Concerto and Concerto op. 8 nr. 4 by Giuseppe Sammartini. It is worth mentioning that the other two Sammartini concertos and the one by Ristori have been recorded only once before on a disc. Concerto RV 450 in C major by Antonio Vivaldi remains the most well-known out of those submitted by Albrecht Mayer.
Giovanni Alberto Ristori - now here's a name that would've seemed more familiar today if his scores had survived the Second World War bombings. But since the city of Dresden, where this Italian composer worked for a long period of time, was practically destroyed during the Second World War, little is known today about Giovanni Alberto Ristori. Albrecht Mayer discovered the score from his Concerto in E-flat major for oboe and orchestra in Johann Georg Pisendel's collection of manuscripts. An enchanting music, which reminds us of a Venice where Ristori began his career. This composer is known for his intense activity at the court of the Saxon Princes in Dresden.
As with Ristori's concerto, the score from Domenico Elmi's Concerto in A minor was discovered in Johann Georg Pisendel's collection, in the so called Shrank II; Pisendel, just like Ristori, was Concert Master of the Dresden Court Orchestra. But little is known about Domenico Elmi: he lived between 1676 - 1760 and he was supposedly Venetian by birth. As a matter of fact, Giovanni Gabrieli's style can be distinguished in the score of Concerto in A minor by Domenico Elmi.
In order to make this disc, with very little known works, Albrecht Mayer got as far as Sweden, at the Stockholm National Library, where he discovered the original score from Giuseppe Sammartini's Concerto in C major. It was a truly unexpected discovery, since Sammartini, Milan-born, spent most of his professional life in London. Sammartini was a contemporary of Bach's - he was born in 1695 and died in 1750 - but in his work we can find stylistic elements characteristic of early classicism and of Sturm und Drang. Giuseppe Sammartini, both a composer and a player, was considered to be one of the most important oboists of the eighteenth century.
This is also the case of this Concerto in C major for oboe and orchestra, a score which is stunningly interpreted by Albrecht Mayer and the I Musici ensemble.
You can listen to the Tesori d'Italia album on Monday, November 27th, from 7 p.m., in rerun on Sunday, December 3rd, from 1:05 p.m. or at any other time on our website, Project "Discs of 2017".
Cristina Comandasu
Translated by Doris Peia,
MTTLC, Anul I