Disk of 2017 > [Archived] Clasic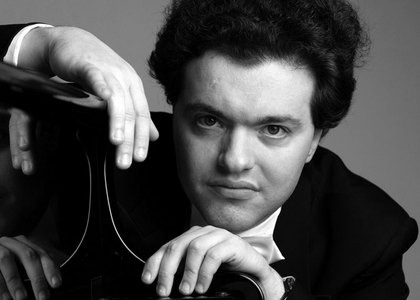 The pianist Evgheni Kissin plays Ludwig van Beethoven – Music box, the 2nd and the 8th of October
Monday, 18 December 2017 , ora 13.22

This theatrical season, for the first two editions of the contemporary discography show from Radio Romania Musical, we have chosen an album that was released on the 25th pf August 2017, showcasing a pianist that has only rarely been the focus of those associated with contemporary discography lately: Evgheni Kissin, the pianist we have also applauded in Bucharest, at the Enescu Festival of 2015.
I once read that a history of contemporary pianists is inconceivable without Evgheni Kissin, who is a real legend, despite his age: despite only being 46 years old on the 10th of October, Kissin could pride himself with a top tier career of at least 30 years.
For the past 25 years, Evgheni Kissin hasn't collaborated with the Deutsche Grammophon record label, which has prepared, for example, his recording of the Concerto No. 1 by Tchaikovsky, alongside the Berlin Philharmonic Orchestra, conducted by Herbert von Karajan. This was from a concert from December 1988!
For this first album for Deutsche Grammophon, after a hiatus of 25 years, Evgheni Kissin chose Beethoven - 5 Sonatas and Variations on an Original Theme; all of them being recordings from live recitals he'd had in Europe, Asia and America between 2006 and 2016.
Ludwig van Beethoven's Sonata Op. 2 No. 3 in C Major was played by Evgheni Kissin in 2006, at a recital in Seoul, South Korea.
In 2007, at the Montpellier Festival in France, Evgheni Kissin played Ludwig van Beethoven's 32 Variations on an Original Theme in C Minor. Evgheni Kissin himself chose these works, which he'd desired to have on this album, all taken from live recitals, because, as Kissin himself says: "Live recordings always surpass studio albums for me, because I feel more inspired when playing for an audience. It means a lot to me to be able to share the spirit of that live experience with others."
I understand completely why he's also chosen these rarely heard Variations, rather than Beethoven's popular sonatas: it's a flawless construction, full of vigour and skill.
This album contains two discs, released on the 25th of August 2017, and it preserves the memory of a few recitals held by Evgheni Kissin over the past 10 years, with one common element: Ludwig van Beethoven's work. And even more than that, they are live recordings that take your breath away. Playing Beethoven is difficult: you've got to have a clarity specific to the classical spirit, you must understand all the ideas on the score, you must be able to go from agony to ecstasy in a heartbeat, from pianissimo to fortissimo, and manage all these without falling prey to an antiquated Romanticism. To play Beethoven well, you must have a very good hold on your internal equilibrium. And Evgheni Kissin is surely a very good player of Beethoven's music: as proof, there is the Moon Sonata Op. 27 No. 2, a famous score, recorded in New York in 2012.
Evgheni Kissin's new album will be played by Radio Romania Musical on Monday, the 2nd and 9th of October, at 19.00, and again on Sunday, the 8th and 15th of October, at 13.05, or you can listen to it anytime on the website of the Albums of the Year 2017 project.
Cristina Comandasu
Translated by Adriana-Cătălina Grigore,
MTTLC 2nd year, University of Bucharest