Disk of 2017 > [Archived] Clasic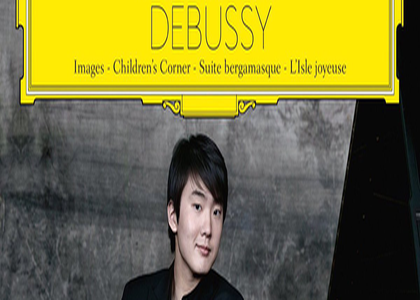 Pianist Seong Jin Cho plays Claude Debussy
Thursday, 25 January 2018 , ora 11.25

2018 is dedicated to, among other things, the commemoration of the 100th departure anniversary of composer Claude Debussy. It was expected that this commemoration would be of great interest to pianists and big record labels: several Debussy albums have already been launched or will soon be released, signed by Daniel Barenboim, Maurizio Pollini and Seong Jin Cho. The latter one is also the protagonist of the album in question, the third album that this 23-year-old South Korean pianist, winner of the Chopin Warsaw Contest in 2015, has made for the famous Deutsche Grammophon.

Seong Jin Cho had included in his first onstage recital, at 11 years old, The Children Corner's Suite by Claude Debussy - a piece of work that can be found in this Debussy disc, which appeared on November 17 of 2017 at the Deutsche Grammophon label.

Seong Jin Cho studied at the Paris Conservatory between 2012 and 2015 with Michel Beroff. It was obviously an opportunity to expand his knowledge of French music, in particular the Impressionist movement. On his previous discs, Seong Jin Cho played Chopin, but I dare say that I find him even better in playing Debussy: a light touch on the piano and a performance out of the ordinary, excellent piano nuances, the ability to create ethereal images - Seong Jin Cho proves to be a great pianist, being mature, thoughtful and full of surprises. These qualities are fully demonstrated by the recording of two Images Suite.

Seong Jin Cho is 23 years old and has an intense career ahead. His winning of the first prize at the Warsaw Chopin Contest in 2015 has opened the doors to an international career. His first disc with Deutsche Grammophon was part of the prize, and the success of that first album made the record label offer him an exclusive contract under which he has already released two albums. Seong Jin Cho has already been the guest of great European and American orchestras; at the end of last year, the Berlin Philharmonic announced that Seong Jin Cho was to replace Lang Lang in concerts that the latter had to cancel for 2018 because of health issues. It is yet another achievement for this young South Korean pianist, whose technique, seriousness, maturity and full understanding of music places him among the top music players of his generation. Other example is the recording of The Bergamasque Suite, which includes the famous "Clair de Moon".

"L'isle joyeuse" ("The joyful island") is the song that concludes this special album, which I recommend to all those who love Debussy.

The album can be listened to for the first time at Radio Romania Music on Monday, January 22nd at 19:00, and will be replayed on Sunday, January 28th at 13:05, or at any time on the project's site Discurile anul 2018.
Cristina Comandasu
Translated by Adriana Oprișan,
MTTLC 1st year University of Bucharest