Disk of 2017 > [Archived] Clasic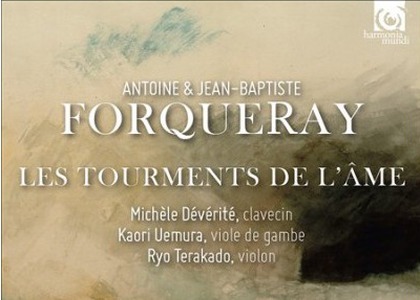 "The Anguish of the Soul - Antoine și Jean-Baptiste Forqueray" disk – CD Review, February 8th
Friday, 2 February 2018 , ora 13.54

Last month, Harmonia Mundi launched a collection of four disks called "The Anguish of the Soul", dedicated to Antoine Forqueray and his son, Jean-Baptiste, two French musicians of the Baroque period and awesome performers of the musical instrument viola da gamba. It comprises all the works of the two composers which are still known nowadays, released for the first time. Even though their music is not very popular today, many harpsichord players perform works composed by Antoine for viola da gamba and revised by Jean-Baptiste for harpsichord, from the collection released by the latter in 1747. Although Antoine Forqueray is thought to have written more than three hundred works, the thirty-two ones included by his son in his album are the only ones that have survived throughout time. The music of these composers is somehow similar to that of their contemporaries, Jean-Philippe Rameau or Jacques Duphly, having the same typical French forms, tonal harmonies and rigorous structures, but the works of Antoine and Jean-Baptiste Forqueray are different through their dramatic style. This style is highlighted by harpsichord players Michele Deverite and Robert Kohnen, violinists Ryo Terakado, Kaori Uemura and Ricardo Rodriguez at viola da gamba, which offers us an excellent interpretive version, accurately and faithfully adapted to the specific techniques of the French Baroque style.
This collection includes an extra CD which comprises the documents of the period about the Forqueray Family, archive records from the National Library of France and also a disk with plays dedicated to the two composers. These are some works written by well-known composers such as Jean-Philippe Rameau or Francois Couperin, but also by less famous musicians, such as Charles-Francois Clement. Among them, we can find a contemporary work by Ana Giurgiu-Bondue, a composer, pianist, harpsichord player and professor who studied at The National University of Music Bucharest and at Paris-Sorbonne University. Having lived in France since 2005, she has composed so far chamber music, choral, vocal and orchestral works, chamber operas and film music. During the last few years, she has studied harpsichord and the interpretation of old music at The Conservatory of Orsay and has composed works for antique instruments. In an interview given to my colleague, Ana Diaconu, for Radio Romania Music, Ana Giurgiu-Bondue talked about her work included in Forqueray album: "My work is called Carillon pour Forqueray and it is written for harpsichord solo. Carillon is basically an instrument composed of many bells which are usually tuned on a minimum of two octaves and are actioned by a keyboard. Generally, carillon is a part of a church, a castle or a monumental building. In my work, I wanted to represent this almost hypnotic atmosphere, which defines a carillon. The work is based on a tetrachord mixed with several variations and the language is slightly neo-baroque."
Album "The Anguish of the Soul - Antoine și Jean-Baptiste Forqueray" is included in "The Disks of 2018" Project. You can hear it on Radio Romania Music on the 8th of February 2018, at CD Review, on "Arpeggio", from 11:30 A.M.
Larisa Clempuș
Translated by Răduțoiu Elena-Alexandra,
MTTLC 2nd year, University of Bucharest