Disk of 2017 > [Archived] Clasic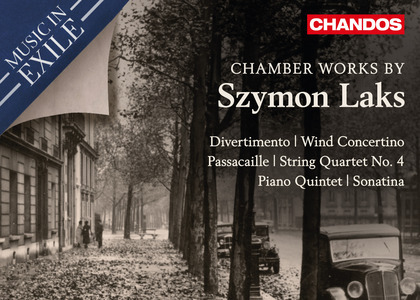 Szymon Laks – chamber music recorded in premiere by ARC Ensemble. An album from 'Music in Exile' collection at CD Review starting with February 9th
Friday, 2 February 2018 , ora 14.17

In the CD Review rubric from February 9th I will propose a disc released last year by ARC Ensemble of the Royal Conservatory from Toronto, an ensemble which we had the chance to listen in Bucharest as well at the most recent edition of 'George Enescu' Festival, where the band impressed due to their professionalism and their interpretation of a remarkable artistic quality. The music from this album belongs to Szymon Laks, Jewish composer and violinist born in Warsaw in 1901. He studied at Vilnius before entering the Conservatory in his hometown in 1921, where he has discovered the secrets of composing with Roman Statkowski și Piotr Rytel. He continued his studies at the Conservatory in the capital of France, becoming one of the most respectable members of the Association for Young Polish Musicians in Paris. In 1941he was arrested by the Nazi authorities and incarcerated near Orleans, then sent to Auschwitz, where he became the head of the prisoners' orchestra. After two years, he was transferred to Dachau, and on 29 April1945 the concentration camp was liberated by the Nord-American army. In that same spring he returned to Paris, received French citizenship and lived there for the rest of his life, having a fruitful activity as composer. He wrote in the baroque and classical genres, using tonal harmonies that belong to the traditional structure. In his work, one may notice an outstanding sense of proportions, a mastery of polyphonic, a rhythmic accuracy and a simple and pure style.
Nominated for its third Grammy in 2016, the ARC Ensemble has earned a place among Canada's most distinguished chamber ensembles. It is formed by professors of the Royal Conservatoire 'Glen Gould' of Toronto, the ensemble has participated at important events and festivals in Budapest, New York, Amsterdam, London, Washington and Bucharest. In what concerns their discographic projects, the band has recorded a successful collection entitled 'Music in Exile', which contains six albums with works created by composers persecuted during the third Reich, works performed for the first time. The last album of these series is the one with songs by Szymon Laks, which I will present in premiere at Radio Romania Music. One of the most representative works from this disc is the quintet for piano and strings composed by Szymon Laks in 1967, the longest and most substantial work of the album. It is based on a few Polish songs and dances with joyful and radiant sonority. The interpretation of the ensemble of the Royal Conservatory of Toronto is persuasive. The musicians have the talent of bringing in the foreground the creation of this composer - not famous enough - Szymon Laks, but, even more that, they do it in an impeccable, responsible manner, with passion and vitality.
I will offer you some selections from the disc with Szymon Laks's music on 9 February 2018 at CD Review, during the 'Arpeggio' show, staring at 11:30.
Larisa Clempuș
Translated by Maria Zorila,
MTTLC 1st year University of Bucharest