Disk of 2017 > [Archived] Clasic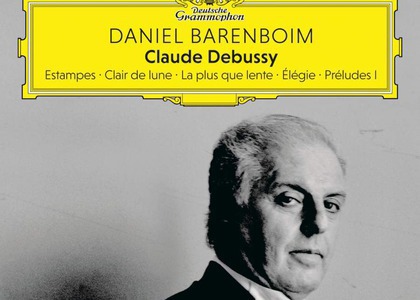 Works by Claude Debussy performed by pianist Daniel Barenboim - Music box, February 5
Tuesday, 6 February 2018 , ora 12.13

A disc appeared on January 12, 2018 at Deutsche Grammophon House: piano pieces by Claude Debussy performed by Daniel Barenboim. An expected and necessary disc in the year when is celebrated the 100th anniversary from the disappearance of the great French impressionist composer, which includes, among other things, two well-known pieces from Claude Debussy's creation: Moolight from the Bergamo Suite and Waltz "The more than slow", followed by the rather unknown Elegy.

Daniel Barenboin - a true legend in life. Pianist, conductor, cultural projects creator, teacher, mentor, and last but not least, commentator of political life worldwide. It seems almost incredible that at the age of 75 in November 2017, Barenboim still has energy for all of this. However, his agenda proves to be abundant; and in his concert schedule this year, we often find Debussy's music - he will lead Debussy, but he will also play piano music by the French master, along with his lifetime friend, pianist Martha Argerich.

And as the preamble of this year, Debussy - when commemorating the 100th anniversary of the composer's death who passed away on March 25, 1918, Daniel Barenboim recorded this Debussy album. I searched for - but I have not found other records of Barenboim with Debussy solo piano works; it is also a premiere for Daniel Barenboim. A refined music, played by one of the great pianists of our time: a new example, the Stampe Suite by Claude Debussy.

A stumbling block to any pianist - the preludes of Claude Debussy, of which the best known are those in the notebook I. 12 paintings, some of which are well-known - The Girl with Fair Hair or The Sunk Cathedral. Daniel Barenboim's personality - impetuous, powerful, seductive, full of energy, it is felt in the interpretation of this music. The contrast seems to me to be very strong I contrast with the subtle Debussy proposed by South Korean pianist Seong Jin Cho on the album we listened to two weeks ago. Two different views on the same composer, but equally valid. This is the beauty of music - a score that gets under the fingers of its various interpreters new and new meanings.

The Debussy Disc signed by Daniel Barenboim can be listened to Radio România Muzical on Monday, February 5, at 19:00, resuming on Sunday, February 11th, at 13:05, or anytime on the site of the project Discs of the year 2018.
Cristina Comandasu
Translated by Costache Alexandra Iuliana,
MTTLC 1st year University of Bucharest