Disk of 2017 > [Archived] Clasic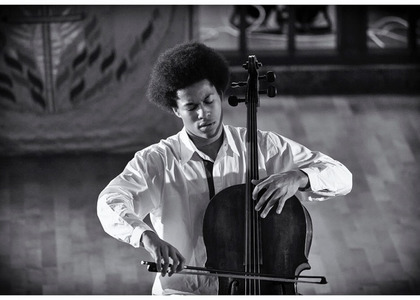 Cello player Sheku Kanneh-Mason's debut album - CD Review on the 14th and 15th of February
Wednesday, 14 February 2018 , ora 10.49

Sheku Kanneh-Mason is one of the most promising young cello players of the world, playing his instrument in a warm, expressive way. The British artist born in 1999 in Nottingham has studied how to play the cello ever since he was six years old with Sarah Huson Whyte and then with Ben Davies at Royal Academy of Music. In 2016 he won the prestigious BBC Young Musician of the Year award, a spectacular success that helped him on his road to becoming a great artist. Since that moment, the young musician's career reached new limits, being invited to play a concert for the 2017-2018 season along with famous ensembles such as Symphony Orchestras from Birmingham, Barcelona, Seattle and Atlanta, Tonhalle from Zurich, Liverpool and Louisiana Philarmonic Orchestra. Another result of his 2016 award, Sheku Kanneh-Mason signed a contract with Decca Record Label and released a CD with songs by Pablo Casas, Ernest Bloch and Gabriel Faure. The second album called "Inspiration", which came out in January this year, is the album that you can listen to today and tomorrow at CD Review, its premiere being on Radio Romania Music. The album which is included in the "Albums of 2018" project contains works created by romantic composers or 20th century composers, some of them being arrangements for chamber ensembles or for cello and orchestra. Interpreting these works, Sheku Kanneh-Mason proves that he is a mature artist, that has a particular sound which is consistent and rich in timbral colors. As for the repertoire selection, it is a bit unusual, combining miniatural songs for cello and orchestra with the monumental concert E-flat major by Shostakovich, a complex work of considerable size. I believe that this combination is not bad though, on the contrary, it is a great choice, showing how versatile the cello player is.

Cello Concert No. 1 in E-flat major op. 107 by Dmitri Shostakovich is one of the most difficult works in the repertoire dedicated to cello playing. Written in 1959, this song was dedicated to the famous cello player Mstislav Rostropovich, who presented it for the first time accompanied by Philarmonic Orchestra in Sankt Petersburg and conductor Evgheni Mravinski, the first recording of the work having been created by all the mentioned musicians that year. This was followed by more memorable discography versions, the more popular ones being recordings of cello players Natalia Gutman, Truls Mork, Jan Vogler, Mischa Maisky or Yo Yo Ma. The most recent recording of Concert No. 1 by Shostakovich belongs to the young cello player Sheku Kanneh-Mason. The artist won the BBC Young Musician of the Year in 2016 interpreting this concert accompanied by BBC Symphonic Orchestra at London Barbican Hall. Last year, the artist came back on the same stage to present once again the Russian composer's work, being praised by critics for his wonderful technique, his eloquence and expresivity.

The work is structured in four parts of big dimensions, the last three being played without any breaks. The first part, Allegretto, starts with a four sounds theme which develops dinamically and then reappears periodic; the second theme is inspired by Russian musical folklore. The second part starts with a calm introduction and continues with expressive melodies which lead to a dramatic climax. The dinamic and emotional evolution is well managed by cello player Sheku Kanneh-Mason, with long, full of tension declamations. During the third part, the soloist plays, without being accompanied by the orchestra, melodic lines which refer to the work introductory part and the second part themes, paving the way for Rondo, Allegro con Moto, with harsh and dissonant sonorities, presented by the British cello player with international precision, ritmic accuracy and exuberant energy. For Concert No. 1 by Shostakovich, Sheku Kanneh-Mason is accompanied by Birmingham Symphonic Orchestra whose conductor was Lithuanian Mirga Granzinyte Tyla, musical director of the ensemble.

Cello player Sheku Kanneh Mason's debut album includes works by
Yosef Hadar, Camille Saint-Saens, Pablo Casals, Dmitri Shostakovich, Jacques Offenbach, Bob Marley and Leonard Cohen, recordings that will be broadcasted on Radio Romania Music on the 14th and 15th of February, at 11:30 a.m. at CD Review during the show "Arpeggio".
Larisa Clempuș
Translated by Gheorghe Roxana Cristina,
Universitatea București, MTTLC, An I