Disk of 2017 > [Archived] Clasic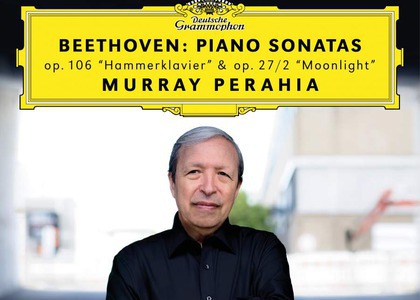 Pianist Murray Perahia performs sonatas by Beethoven – Music box, February 12th
Wednesday, 14 February 2018 , ora 12.10

A very special album, signed by one of the great pianists of our time, Murray Perahia. An album released at the Deutsche Grammophon record label on February 9th, Perahia's second disc for the famous label, after the French suites by Bach, nominated for this year's Grammy Awards.

This second album features Beethoven and two famous sonatas: Hammerklavier, the monumental op. 106 from 1818, and the Moonlight sonata op. 27 no. 2 from 1801.

Murray Peria on the Hammerklavier

"I think the challenges of this music are still alive, because you can delve deeper and deeper in its mysteries. When studying a work that is so complicated, you realize you're entering a boundless territory, including from an emotional standpoint. There isn't any note put there at random, and yet there is an improvising spirit. So it's a mystery that will keep intriguing and pushing musicians forever.

The first thing when facing this sonata are the metronome indications on the score, which Beethoven didn't give to any other sonata and are very quick. For me it's not important to follow these indications, but to let the rhythm express aspects of the work that I deem important.

The Hammerklavier sonata was produced in one of Beethoven's depressive years, during which he hadn't written anything else; I think it was his way to come out of this depression. There is a certain force there, the first part resembles a comet.

I played this sonata 2-3 times when I was 25 and I wasn't happy with the way I did it. I thought then: 'When I'm older, I'll come back to it.' And I kept postponing it, because it's such an important work; you need at least several months of study exclusively dedicated to it. I found these months a year and a half ago - I dedicated an entire summer to the Hammerklavier sonata. I started playing it in recitals a few times, more ambitiously with each performance. Finally I said to myself: 'Maybe I'm ready to record it, to express some thoughts about this work.'"
A huge pianist and a performance for the ages of this challenging sonata by Beethoven; a performance born, no doubt, from the impressive experience of the musician who turned 70. For him, detail is of the utmost importance. It's so rare to come across a recording where you don't want to change a single sound, that is perfect without being lifeless; or, on the contrary, that can trick you through too much going on at the same time: temp, vibration or feeling. This disc is one of those rare jewels, a way of creating philosophy about life by using only sounds.

Murray Perahia on Betthoven's Moonlight sonata
"I chose the Moonlight sonata because it's such a great contrast from the Hammerklavier. Even the title: Sonata quasi una fantasia - it's not a sonata in the strict sense, as opposed to the Hammerklavier, which has a typical structure. The Moonlight sonata has a free form.

Wheen Beethoven started writing this sonata, the Allgemeine Musikalische Zeitung - the most important specialized publication at the time - published an article dedicate to the Aeolian harp. I don't think Beethoven actually knew what the Aeolian harp sounded like, rather he used his imagination, allowing himself to be inspired by this article. That's what I think. People were writing poems dedicated to the Aeolian harp; some believed God was playing the Aeolian harp; that is, the wind, through God's power, would transmit sounds that us, mortal, could hear. In the article Beethoven read, the ones playing the Aeolian harp were young lovers who had died too soon, such as Romeo and Juliet.
I see the third and final part of this sonata like the ending in Romeo and Juliet: everybody tries to rush the tomb to stop Juliet's death. I hear the horses galloping there.

The power of music - this is the main theme of Beethoven's life. He thought that music can bring people together, it can make them love and can transform them."

Panist Murray Perahia - a living legend and an interpretation of this more-than-2-hundred-year-old sonata that can rank right up there among the legendary versions of the 21st century. The Moonlight sonata still fascinates people - according to Perahia, it finds a classical form while having a subtle romantic pathos that exploits this unusual sonata written in 1801, anticipating the 19th century Romanticism.

The album Beethoven by Murray Perahia can be heard on Radio Romania Music on Monday, February 12th, starting from 19:00, and in rerun on Sunday, February 18th, from 13:05, or whenever you like on the Discs of 2018 website.
Cristina Comandasu
Translated by George Arion,
MTTLC I, Universitatea București