Disk of 2017 > [Archived] Clasic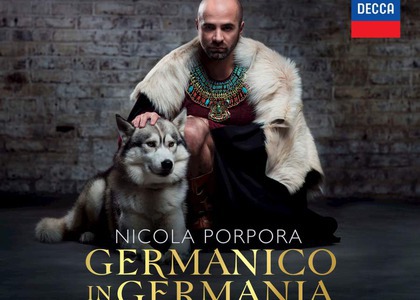 A worldwide premiere recording: "Germanico in Germania" opera by Nicola Antonio Porpora
Tuesday, 20 February 2018 , ora 16.00

In comparison to G. Fr. Haendel - who has been strongly promoted the last decades! - and who has actually been a rival of his in London, during 1733 - 1736, the preclasic Neapolitan composer, Nicola Antonio Porpora (1686 - 1768), was brought back on advertising bills and in recording studios only ten years ago, although he composed 50 operas and around 130 cantatas, and his musical inspiration and composing technique are equivalent to the Haendelian talent. Perhaps his dramaturgical sense was not the same and it is true that his vocal scores were much more difficult than Haendel's, but still it was unfair. Therefore, any attempt to bring back Porpora's creation is a necessary act and, of course, something that should be brought to light…

2 integrals and 4, 5 arias
So far, out of all the 50 operas, only two have been integrally recorded: Orlando (2005, Record Label K 617) and Il Gedeone (1999, CPO). As for the rest… 4, 5 arias included in the recitals and solo albums of mezzo-soprano Cecilia Bartoli (Sacrificium), Canadian soprano Karina Gauvin, American mezzo-soprano Vivica Geneaux or by countertenors like: Philippe Jaroussky, Valer Sabadus, Franco Fagioli or Andreas Scholl. Especially Fagioli who approached the repertoire of a former student of Porpora, Caffarelli, therefore ending up intensively promoting Porpora's opera creations.

Germanico in Germania Opera - made in DECCA
Released on January 12, DECCA integral - which I recommend you to listen to this Saturday and which has been added to the Albums of 2018 Campaign - was a worldwide premiere recording for Porpora's opera, Germanico in Germania. It was produced in Radio Krakovia studios during July 23 - August 3, 2016, at the discretion of Croatian countertenor Max Emanuel Cencic - who was amazing for the title role! - and is, in my opinion, one of the best discography integrals that represent the preclasic repertoire. Why? Because it is powerful, it has the right sound - the ensembles conducted by Jan Tomasz Adamus, "English Voices" and "Capella Cracoviensis" participated - and the five soloists that accompany Cencic are excellent, the lead being the person that I consider "the Baroque trills queen" - Russian soprano Julia Lezhneva.
Luminita Arvunescu
Translated by Gheorghe Roxana Cristina,
University of Bucharest. MTTLC, 1st Year