Disk of 2017 > [Archived] Clasic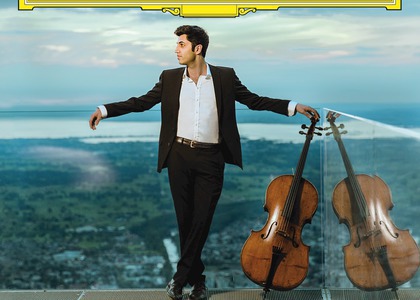 Cellist Kian Soltani and pianist Aaron Pilsan – the album Home: Music box, February 19th
Wednesday, 21 February 2018 , ora 9.37

An album released by Deutsche Grammophon on February 9th - Home - with cellist Kian Soltani and pianist Aaron Pilsan. Two young Austrian musicians who are part of different cultures: Kian Soltani comes from Iranian parents and considers his Persian legacy to be very important, while Aaron Pilsan's father is Romanian. With that being said, we now understand why an album called Home has a very important meaning. On the CD, the musicians have recorded works that speak both about their current home country - works by Schubert and Schumann - as well as about Kian Soltani's Persia - through pages composed by contemporary composer Reza Vali and by Soltani himself.
Kian Soltani is an Austrian cellist. He is 25, was born in Bregez and his parents are Iranian professional musicians. He is a very talented young musician who started playing the cello when he was 4. He was the receiver of an Anne Sophie Mutter grant for young talents and is one of Daniel Barenboim's protégées - he has performed with his West Eastern Divan and will play again this year in a world tour.
In the trailer for the new Home album, Kian Soltani talks about the place that for him means home - the Voralberg region in Austria, where he spent his childhood. He also explains how this place is inextricably tied to Schubert's music - especially the Arpeggione Sonata, a sonata so important in the repertoire of cellists, which he wanted so much to include on this new disc released by such an important record company.
Kian Soltani and Aaron Pilsan have been playing together in recital for a long time. For many years now, their repertoire has been featuring works for cello and piano by Robert Schumann, which they included on their Home album: three fantasy pieces op. 73 and the Adagio and Allegro op. 70.
Pianist Aaron Pilsan was dubbed "a piano prodigy" by the Austrian press. He was born in 1995 and grew up in the same Austrian region as Kian Soltani, in Voralberg. At 22, Aaron Pilsan had already appeared on the stages of the most important festivals in Austria, Germany and Switzerland and had launched his first CD for piano solo, enthusiastically received by critics. He likes to play chamber music - which is very obvious in the recordings for Home.
"There are many young cellists, but there aren't many as versatile as Kian Soltani" says a presentation of this disc - a statement I totally agree with. I think the Deutsche Grammophon initiative to bet on the new names that appear in the classical world is very important and successful - young artists who impress through their high artistic level, through their dedication, intelligence, musicality and who have an important story to tell. For example, it's truly exotic to see an artist with a non-European figure, such as Iranian Kian Soltani, playing Franz Schubert's music so focused and convincingly. But ultimately I don't think that the exotic character of a situation is what makes a disc sell; it's rather what it has special to offer -in this case, both the interpretation and the repertoire. Kian Soltani and Aaron Pilsan have performed in a world premiere seven Persian folk songs by Reza Vali - an Iranian composer born in 1952 - and, again as a world premiere, have recorded them on this disc.
The album can be heard in premiere on Monday, February 19th, starting from 19.00, and in a rerun on Sunday, February 25th, starting from 13.05, or at any other time on the website of the Discs of 2018 project.
Cristina Comandasu
Translated by George Arion,
MTTLC 1, Universitatea București