Disk of 2017 > [Archived] Clasic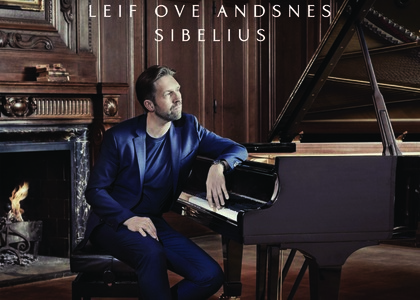 The album 'Sibelius' with pianist Leif Ove Andsnes
Tuesday, 27 February 2018 , ora 9.12

In the editions on March 1 and 2, 2018, I will be presenting you the newest album (released in October 2017) by pianist Leif Ove Andsnes, a popular musician acclaimed both by critics and public for his elegance and expressive force, for his profound and inclined-to-introspection interpretations. Born in 1970, the Norwegian musician studied at the Bergen Conservatory with Professor Jiri Hlinka, and was also supported in his artistic evolution by the Belgian piano teacher Jacques de Tiège who influenced him in terms of style and the philosophy of interpretation. Leif Ove Andsnes, currently an artistic consultant of the piano academy named after his professor Jiri Hlinka, has a rich concert activity. In the 2017-2018 season, he is a resident artist at the New York Philharmonic, after having performed in the past few years with well-known ensembles such as the Symphonic Orchestras in Vienna, Boston and Berlin, London and Oslo Philharmonics, Tonhalle in Zurich, and Radio France Orchestra. Leif Ove Andsnes's discography projects him as one of the most active musicians of the moment, and he has recorded dozens of albums with works from various stylistic areas. One of his most recent projects, Beethoven Journey, was received with excitement by critics and was awarded the BBC Music Magazine Award in 2015. The Norwegian pianist, an exceptional interpreter of the romantic repertoire and especially of Edvard Grieg's creation, received over time, for his remarkable recordings, not less than six Gramophone awards. In October last year, Sony released a new album, featuring solo piano pieces by Jean Sibelius. A kind of repertoire that highlights the pastel sounds and the pianist's poetical interpretation.

Not a few times, the composer Jean Sibelius was criticized by his contemporaries because he had a predilection for miniature plays, especially dedicated to piano and violin, rather than focusing more on composing large-scale orchestral works. But the Finn musician did not seem disturbed at all by these criticisms, and he wrote at one point in his diary: "A composer must combine great works with small works." Simfonies with simple songs. It is said that Sibelius always liked to sit down and improvise or come up with new musical ideas. He also had a formidable piano skill, enchancing the audience with his plays, even if he did not consider himself a professional pianist. In total, the composer wrote more than 150 piano works, of which 115 were published with opus number, and 35 remained unknown to the general public. The quantity of these pieces is impressive, but the same is the quality of the compositions that have always been loved by pianists, even if they have been criticized in the past by some musicologists. There were many pianists who found provocative Sibelius' music, with originality, lyricism and a very interesting writing, perfectly suited to the keyboard. For example, Glen Gould, an admirer of the composer, said: "Sibelius never wrote against the piano. In his music, everything fits, everything sings, the composer making a significant contribution to the far too llimited piano repertoire of late romanticism". And the Finn pianist, Eero Heinonen, wrote that "there are certainly technical difficulties in Sibelius' piano music, but in general the piano texture is melodious, colorful and inventive." The beauty of the pieces and their harmonic complexity also attracted the famous Norwegian pianist Leif Ove Andsnes, who included on his 2017 album a selection of the 150 miniatural creations composed by Sibelius.

Of these, I noticed lyrics "Kyllikki" op. 41 composed in 1904. The first part begins with a slow introduction into a throbbing atmosphere that precedes the main theme, gruesome, full of pathos and bushy sound texture. The progressive octaves and the massive accords gain consistency and amplitude in the interpretation of Leif Ove Andsnes, who then suddenly changes the touch and the style of approach in Andantino, the slow second part with a pronounced nostalgic character. The final move, Commodo, has a significantly reduced size and a playful, jovial, polka rhythm.

Also from the Finnish composer's work, Andsnes included on his album Rondino op. 68 no. 2, a dance piece with strange harmonies, built on alternating chromatic tensions and consonants. In contrast, the pianist creates a different sound world in Elegiaco op. 76, a sad melody accompanied by arpeggiated chords.

In the five Sketchs Op. 114, the last solo piano creation written by Jean Sibelius, the composer manages to bring new dimensions to the writing of the piano, singing sounds that seem orchestral. Named "Landscape", "Winter Tab", "The pond", "Song of Forests" and "Spring", the songs have an accentuated descriptive character and a harmonic tono-modal arrangement specific to the Sibelius late creation style.

By interpreting the piano music of this composer, Leif Ove Andsnes leads us in a fascinating sound universe, sometimes creating an atmosphere of ambient music. His delicate touch fits nicely with lyricism and the richness of sound that characterizes Sibelius' music, the pianist demonstrating once again that he is one of the most refined performers of the creation of late romanticism.

Sibelius album with Leif Ove Andsnes is included in the Discs of the year 2018 project at Radio România Muzical and will be broadcast on March, 1 and 2 at CD Review, during Arpeggio, at 11.30.
Larisa Clempuș
Translated by Costache Alexandra Iuliana,
MTTLC, 1st year