Disk of 2017 > [Archived] Clasic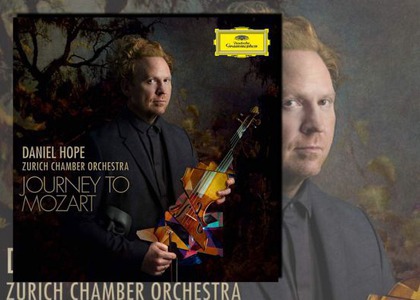 Daniel Hope - Journey to Mozart: Mozart box, February 26
Thursday, 1 March 2018 , ora 11.00

The album Journey to Mozart, created by violin player Daniel Hope and Zurich Chamber Orchestra, whose musical director has been Daniel Hope since 2016, was released by label Deutsche Grammophon on February 9, 2018.

"It's like you are climbing Mount Everest with Mozart's music. You keep climbing, and the mountain gets bigger and bigger. And yet, every time you get closer, you enjoy it more and more. And still it's so far away. So I had to go through this experience, to live with Mozart before entering the recording studio and say: "This is what I want to tell people about Mozart." - Daniel Hope mentions in his presentation video of this album, on which we find Mozart's creations: Violin Concerto No. 3 and Adagio for Violin and Orchestra KV 261, as well as an arrangement for violin and orchestra after famous Alla turca part in Sonata no. 11 for piano.

Daniel Hope offers us Mozart's view beyond the commercial standard that has been imposed by Mozart's works; it's actually a reinterpretation of this composer we thought we knew everything about, but about whom we realize that, every time we listen to his works, he's just slipping through our fingers. Daniel Hope approaches Mozart's work very precisely: a genius whose music seems to go beyond everything human, who manages to give human emotions the ideal shape, but who is a warm person that is close to us. This dichotomy between Mozart - the cold genius and the warm person - is, in my opinion, very well expressed by Hope's and Zurich Chamber Orchestra's performance: it has both the authentic perfume of the 18th century interpretations and the spirit and inventiveness specific to people nowadays.

Daniel Hope offers us the chance to understand the times Mozart lived in better, the 18th century having been so fruitful for human history, not only from a musical point of view. This is why he included on this album works by composers that antedated Mozart, like Christoph Willibald Gluck, who was born in 1714 and died only 4 years before Mozart, in 1787, the creator of clasic opera who actually inspired Mozart. Out of Gluck's creation, this album includes "Dance of The Furies" and "Dance of the Blessed Spirits" from Orpheus and Eurydice opera. Afterwards, we are introduced to Josef Myslivecek's music, a Czech composer who was a friend of Mozart's, whose composition is very elegant and classic. And in the end, we listen to a violin and orchestra romance by Johann Peter Salomon, known as one of the greatest business managers of the 18th century and the beginning of the 19th century, a violin player who did some important activities in England and the one that actually introduced Mozart's creation in Albion. It seems that he was the one that named Symphony No. 41 "Jupiter".

Nevertheless, Joseph Haydn definitely influenced Mozart the most - their relation is very well known: Mozart dedicated to Haydn six quartets written between 1782 and 1785. Haydn confessed that Mozart is the greatest composer of all times. On this album we can find Haydn's Concerto for violin and orchestra in G major. Haydn's concertos for violin and orchestra are less known that Mozart's - actually only three of these scores have been held until nowadays. A bright lively music - just like Haydn himself was.

The conclusion of this album is an arrangement created by Olivier Fourés inspired by Alla turca from Sonata no. 11 for piano by Mozart - an arrangement in which we can find Turkish percussion and an interpretation that, in Daniel Hope's view, is meant to recreate the Viennese authentic atmosphere during Mozart's time, the 18th century when the Ottoman Empire was still having a big influence, especially from a cultural point of view - Venice's siege in 1683 was still a pretty recent event at that time.

Indeed, a happy conclusion for a special album in my opinion, just like each Daniel Hope album so far. I don't know if this is his goal, but each Daniel Hope album is a story and presents new perspectives about a composer or a personality that Daniel Hope wants to evoke. Furthermore, his warm and open personality can be seen in the way he sings and communicates with the audience, even through an album. I recommend this album to everybody that believes that classic music is for the 21st century people too.

You can listen to the album Journey to Mozart for the first time in Romania on the radio on Monday, February 26, starting with 7:00 p.m., and during the rerun on Sunday, March 4, starting with 1:05 p.m. And anytime on the website of the project Discurile anului 2018.
Cristina Comandasu
Translated by Gheorghe Roxana Cristina,
University of Bucharest, MTTLC, First Year