Disk of 2017 > [Archived] Clasic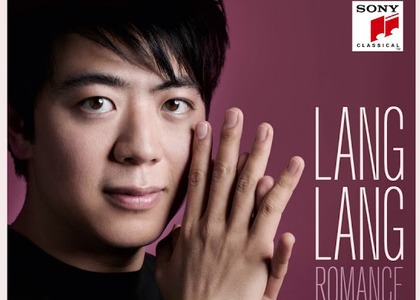 "Romance" – an album by pianist Lang Lang. CD Review: 12th, 13th, 14th of March
Monday, 12 March 2018 , ora 11.42

Album released in November 2017, for the first time on Radio România Muzical
"Romance" is the title of the most recent album by pianist Lang Lang - a charismatic artist with a fabulous career, who has had an outstanding impact on the music world in recent years. Released in November 2017 and part of the Radio România Muzical Records of the Year 2018 project, it comprises a selection of Romantic solo piano pieces recorded for Sony Classical.
In addition to famous pieces from composers such as Liszt, Chopin, Schubert or Tchaikovsky, this record features two compositions by Bach, one by Beethoven, as well as two contemporary works by Hans Zimmer and Anne Dudley, all brought together by a common and well-marked Romantic spirit, and rendered by Lang Lang in his renowned style, characterized by a strong dedication and a dynamic ardour, as well as a particular poetic sense on the reverie-inducing lyrical pieces.

The album opener is Liebestraum in A-Flat Major, S. 541 No. 3, the final and most popular piece from the set of solo piano compositions published by Franz Liszt in 1850. The piece consists of three sections divided by fast-paced passages that require extraordinary technical abilities on the performer's part. Different variations of the same melody occur throughout the composition, with a climax in the central section. Lang Lang seems to pay special attention to the dynamic structure of the composition, colouring the musical discourse with a wide range of musical gimmicks. However, in the two Baroque pieces that follow, both signed by Bach - Orchestral Suite No. 3 in D Major, BWV 1068: III. Air "On the G String" (Arr. for Piano) and the Cantata "Jesus bleibet meine Freude" (Arr. for Piano) - there is a sudden change is the pianist's manner of interpretation and in his touch that remains consistent but acquires somewhat airy nuances that enhance the serene and luminous atmosphere of the music. With a reserved and sombre approach, and a regard for the stylistic rigour of the German Baroque, Lang Lang proves himself to be a mature pianist in full control of his means of expression.

Lang Lang is passionate about Romantic music, especially the work of Frédéric Chopin; no fewer than five of his albums are dedicated to the Polish composer's repertoire. In a recent interview for a British publication, the Chinese pianist said: 'I began to play Chopin at a very young age and I always experienced a warm and delightful vibration while playing his music. I could say that I've been preparing for this music my whole life.' The verve in Chopin's compositions is indeed a perfect fit for Lang Lang's rebellious and exuberant spirit, and highlights his exceptional musical abilities, that were rewarded with an Echo Klassik Award for his "Chopin Album". On "Romance", the Chinese pianist plays the following pieces from the composer's repertoire: Nocturne in C-Sharp Minor, Op. Posth., B.49; Études, Op. 25: No. 1 in A-Flat Major; Andante spianato, Op. 22; Études, Op. 10: No. 3 in E Major (Transcribed in A Major); and Études, Op. 25: No. 5 in E Minor.

The music of Franz Liszt also has a prominent place on this album. Lang Lang has a special relationship with this composer's work that he constantly performs in concerts and recitals. In 2011, on the 200-year anniversary of the Hungarian composer's birth, he released a record called "Liszt - My piano hero". In an interview he gave at the time, the pianist said that he was always inspired by the music of Liszt. When he was only five years old, he performed the Hungarian Rhapsody No. 2 as part of his debut recital and throughout his career he often returned to Liszt's work. 'Every year I would learn a major piece of his. It was a lengthy process during which my technique improved. Every one of Liszt's compositions has been a milestone for me', said Lang Lang.

Born in Shenyang, China, Lang Lang began to study the piano at the age of three, and a mere two years later he won first prize at the local piano competition and gave his first recital. When he was nine years old, he was admitted into Beijing's Central Conservatory of Music and won first prize at the International Tchaikovsky Competition for Young Musicians. Success was hot on his heels, so that at thirteen he gave a recital at the Beijing Concert Hall, where he played Chopin's Études in full. He later left his native country to study at the Curtis Institute of Music in Philadelphia, where the legendary pianist Gary Graffman was his teacher. A pivotal moment in Lang Lang's career was when he replaced Andre Watts to perform Tchaikovsky's Piano Concerto No. 1 alongside the Chicago Symphony Orchestra conducted by Christoph Eschenbach. Met with the acclaim of both critics and public, Lang Lang suddenly became a superstar, a piano sensation that was praised on the most famous stages in the world. Since then, he has been engaged by renowned ensembles such as the Berlin and Vienna Philharmonics, as well as most symphonic orchestras in the United States, and collaborated with conductors Sir Simon Rattle, Gustavo Dudamel and Daniel Barenboim. One of his most viewed performances took place ten years ago during the Olympics opening ceremony in Beijing. However, aside from the successful large-scale concerts meant for the general public, the pianist regularly gives recitals for children in schools, as he believes music can be a good means of communication. In 2008 he founded the Lang Lang International Music Foundation with the purpose of promoting young talented pianists. The institution received a special Echo Klassik Award in 2015. In parallel with his stage, philanthropic and educational activities, the pianist also works on his many discographic projects: in 17 years, he has released ten studio albums, four live albums and some soundtracks. After the release of his first album in 2000, Lang Lang made a few records for Deutsche Grammophon, and in 2010 he signed with Sony Classic; he recorded ten albums for them, most of which focus on a Romantic repertoire. His records have achieved outstanding commercial success and have ranked on American Billboard charts. Nevertheless, beside the Romantic pieces that are always savoured by the public, Lang Lang constantly approaches contemporary compositions, but also classical opuses. For instance, the 2014 "Mozart Album", that was also broadcast by Radio România Muzical, was extremely successful, and the album that featured Beethoven's Concertos No. 1 and No. 4, recorded with the Paris Orchestra conducted by Christoph Eschenbach, brought Lang Lang a nomination at the 2007 Grammys for Best Instrumental Soloist Performance. Therefore, the Chinese pianist has demonstrated that he is a complete and versatile artist who approaches different types of music with ease, despite some critics' claims that his extravagant manner of interpreting lacks maturity, depth and sensibility.

You can listen to Lang Lang's album "Romance" on Radio România Muzical on the 12th,13th and 14th of March, during the CD Review (at 11.30) from our show Arpeggio.
Larisa Clempuș
Translated by Andreea Panțîru,
MTTLC, 1st year, University of Bucharest