Disk of 2017 > [Archived] Clasic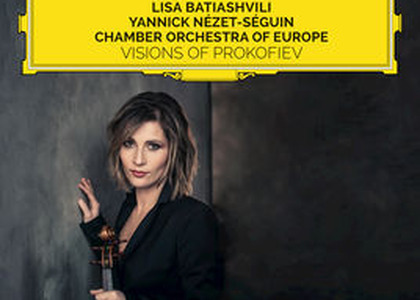 Violinist Lisa Batiashvili and the Chamber Orchestra of Europe, led by Yannick Nézet-Séguin – Music box, the 5th of March 2018
Tuesday, 13 March 2018 , ora 12.27

An album released on the 2nd of February 2018 under the record label Deutsche Grammophon: pieces by Serghei Prokofiev and performed by violinist Lisa Batiashvili with the Chamber Orchestra of Europe, led by Yannick Nézet-Séguin. Evidently, the record includes the two concertos for violin and orchestra, but also renowned themes from the ballet pieces Romeo and Juliet and Cinderella, as well as the opera Love for Three Oranges by the same Prokofiev and arranged by Lisa's father, Tamas Batiashvili.

In my opinion, the name Visions of Prokofiev is an excellent choice for this album: it is not simply Prokofiev, it is Lisa Batiashvili's reinterpretation of Prokofiev - this Prokofiev who attached such importance to ballet music, which influenced his other works as well; it is plain to see this on the Concerto No. 2 that was written during the period when the composer was also working on Romeo and Juliet. We discover a Prokofiev who is very much cosmopolitan through his life and musical experience - and so is Lisa Batiashvili, a 39-year-old Georgian violinist who moved to Western Europe at the age of 13 and now lives in Munich.

Lisa Batiashvili's rendition of the difficult piece that is the Violin Concerto No. 2 by Prokofiev is perfectly adapted for the 21st century: fragile, yet so powerful, fire and ice, light and darkness - one of the most convincing versions of this opus that I have ever heard.

In the videos that come with the record, we can see Yannick Nézet-Séguin - he himself being one of the most sought-after conductors nowadays - saying that Lisa Batiashvili is his favourite violinist. It comes as no surprise; Lisa Batiashvili is a true contemporary star of violin playing: delicate, yet so strong, with impeccable technique and a very elegant presence; a violinist who knows how to impose her own vision on the piece she performs, but still stay true to the original - a quality that elicited unanimous appreciation for her previous album, recorded with the Berlin and State Opera Choir, led by Daniel Barenboim - concerts by Tchaikovski and Sibelius.

Together with Yannick Nézet-Séguin, Lisa Batiashvili came up with the perfect story for the record Visions of Prokofiev - in fact, not a story, but a powerful message about a Europe that is united and the European values that bring us together: through the music of Prokofiev, which is among the most international, so to speak, of the 20th century, and through the mission of the Chamber Orchestra of Europe. In the face of a wave of Euroskepticism, musicians are on the front line of promoting the idea of a united Europe and its values- a very natural tendency among people who live their lives in such a manner that truly transcends nationality.

Music - classical music, in particular - does not require words and explanations. It does, however, need people who appreciate it and performers to breathe life into it in a way that resonates with the reality of their contemporaries. Lisa Batiashvili, the Chamber Orchestra of Europe and Yannick Nézet-Séguin certainly offer a performance of Prokofiev's music that can reach people living in 2018, especially of the Violin Concerto No. 1, an opus that Lisa Batiashvili approached for the first time at the age of 13.

The album Visions of Prokofiev will be played for the first time on Radio România Muzical on Monday, March 5th, at 19.00, or on Sunday, March 11th, at 13.05. You can also listen to it anytime on the Records of the Year 2018 website.

Translated by Andreea Panțîru,
MTTLC, 1st year, University of Bucharest