Disk of 2017 > [Archived] Clasic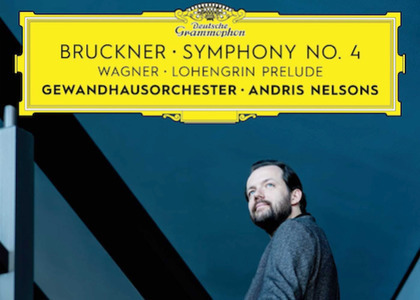 Andris Nelsons and the Gewandhaus Orchestra – Bruckner and Wagner: Music box, March 12th
Monday, 19 March 2018 , ora 12.54

For the first time on Radio România Muzical, a record released on the 16th of February 2018 under the label Deutsche Grammophon: Wagner and Bruckner by the Leipzig Gewandhaus Orchestra, led by Andris Nelsons.

Those who will listen to our live broadcast from Leipzig on Sunday, March 11th, know that the Gewandhaus Orchestra is celebrating 275 of activity, as well the naming of a young and highly appreciated conductor of our times, Andris Nelsons, as bandmaster. Not only does he also conduct the Boston Symphonic Orchestra, but he has two Grammys under his belt as well, which he was awarded for his recordings of Shostakovich's symphonies in 2016 and 2017. This Latvian bandmaster has proven his worth through such impressive achievements.

In February 2018, Andris Nelson became the 21st bandmaster of the Leipzig Gewandhaus Orchestra. The event happened to coincide with the orchestra's 275th anniversary. The bandmaster and his orchestra decided to mark the occasion through a series of records, among other things, that include Anton Bruckner's symphonies in full. The first record has already been released in May 2017 - Symphony No. 3. The second record consisting of Symphony No. 4 is the one we will be listening to today, and the next one will be released on the 6th of April: Symphony No. 7 - it is the recording of the concert that took place on the 11th of March, which you can listen to live on Radio România Muzical at 21.00.

It is no coincidence that Bruckner's symphonies are paired with opuses by Richard Wagner; both their careers are entwined with the history of the Leipzig Gewandhaus Orchestra - two major German figures, but two radically different manners of expressing a Romantic ideal. Therefore, the first piece on the record is Wagner's Prelude to Act I of "Lohengrin".

The second track is Anton Bruckner's Symphony No. 4 "Romantic". There is an important connection between Bruckner and Gewandhaus: in 1884, this orchestra premiered his Symphony No. 7 and it was one of the greatest acomplishments in Bruckner's life.

"Bruckner's music goes beyond intellect," says Andris Nelsons, "it is pure emotion and I cannot think of another orchestra that could perform it quite as well as Gewandhaus can." Having listened to their performance of Symphony No. 4, I must agree with Nelsons: what makes their interpretation memorable is the variety of nuances that the orchestra employs, its ability to constantly keep listeners on their toes. That, of course, is due to Nelson's ability to have modelled his orchestra so that they follow all his intentions and react promptly to every movement of his baton, building impressive cresdendo arches from a nearly imperceptible piano to fortissimo. And there is something else worth considering: shifting the unjust view of Anton Bruckner as a pretentious composer that is hard to access to that of him as a creator who still has something to say to our contemporaries. In a world in which reflection, true faith and authentic feeling are such rare birds, Anton Bruckner's music can take you to surprising places - and Nelson is capable of giving Bruckner's music an interesting and contemporary feel, which is truly the attribute of a great conductor.

The second record from the Wagner-Bruckner series by Andris Nelsons and the Leipzig Gewandhaus Orchestra will be broadcast on Radio România Muzical on Monday, March 12th, at 19.00, and on Sunday, March 18th, at 13.05. It is also available on the website of the project Records of the Year 2018 starting March 13th.
Cristina Comandasu
Translated by Andreea Panțîru,
MTTLC, 1st Year, University of Bucharest