Disk of 2017 > [Archived] Clasic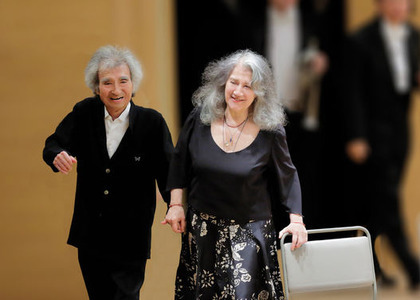 Beethoven with Martha Argerich and Seiji Ozawa - Music box, March 19th
Tuesday, 20 March 2018 , ora 12.07

A disc appeared at Decca House on February 2, 2018; Symphony I and Beethoven Piano and Orchestra Concerto No. 1 with pianist Martha Argerich and Mito Chamber Orchestra, conductor Seiji Ozawa.

Japanese conductor Seiji Ozawa is 82 years old; Martha Argerich, 76 years old - this is the first disc they make together. However, Martha Argerich's ties to Japan are very tight: for 19 years, in Bepu, a city in southern Japan, there has been the Martha Argerich Festival, where this year's ensemble is one of the invited orchestras in Mito, another Japanese city , located on the eastern coast of the country. Seiji Ozawa is from 2013 as the general manager of this orchestra in Mito who has imposed himself on quality and the interesting projects he has run.

As a matter of fact, the quality of the orchestra is also very noticeable in the recordings on this disc. Sure, the unquestionable star is pianist Martha Argerich, a true phenomenon; at the age of 76, she has the spirit of a teenager, as a Gramophone columnist, also appreciated for conductor Ozawa. Perfect scenery, wonderful dazzling discourse between the spirit of the score and a personal touch, piano moments that leave you breathless, a tremendous tempo in the third part, controlled in the smallest detail: Martha Argerich is undoubtedly one of the greatest pianists who have ever lived.

The first symphony by Ludwig van Beethoven is the opportunity to once again admire this Japanese orchestra, of which we know so little.

Mito is a city with a very important historical and cultural tradition in Japan, which has contributed to the modernization of Japan in the nineteenth century.

The Chamber Orchestra in Mito was established in 1990 with the inauguration of the Mito Arts Tower - a complex with a concert hall, art gallery and a theater. The Orchestra is made up of 21 Japanese musicians and 5 foreign musicians active in major European orchestras. They are accustomed to singing without a conductor, in addition to the regular season concerts where they are led by important names.

The Chamber Orchestra in Mito once again demonstrates that an Asian ensemble led by a great conductor is at the level of the major international orchestras, especially in Japan, where classical music has today an important tradition, also supported by the Japanese state. The record was first released in Japan in October 2017 and ranked first in classical music sales from its first week of release.

The disc can be listened to Radio România Muzical on Monday, March 19, 19.00
Cristina Comandasu
Translated by Costache Alexandra Iuliana,
MTTLC, 1st year