Disk of 2017 > [Archived] Clasic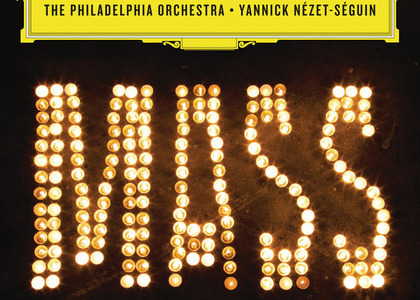 Leonard Bernstein: Mass – Music Box, the 26th of March, 2018
Wednesday, 11 April 2018 , ora 12.23

For our last edition of Music Box before the Easter holidays, we suggest a religious themed song that we don't often get the opportunity to listen to, extracted from an album that was launched on the 16th of March 2018 by Deutsche Gramophon record company.

Naturally, it is an appropriate composition to listen to around a religious holiday, but also in the same year we celebrate 100 years from the birthday of Leonard Bernstein, one of the most famous and influential conductors and composers of the 20th Century.

We are, of course, talking about Leonard Bernstein's "Mass", a monumental work of more than 100 minutes. And the composition is not only monumental by its size, but also by the number of musicians that it requires: two orchestras, a rock group, a brass band, a few choirs, soloists; so we can understand why it is so rarely interpreted or recorded.
Leonard Bernstein was commissioned to write this Mass. Jacqueline Kennedy requested this work for the inauguration of the Kennedy Center in New York, and the premiere took place on the 8th of September 1971. It is in fact a play for musical theater, it can be performed as a play, but also as a traditional concert. The composition contains the main moments of a Catholic Mass, in Latin, interlaced with passages written by Bernstein's lyrics in English. It is a composition that brings the Christian tradition face to face with the challenges of contemporary times. Also, it is a known fact that President Nixon did not attend the first audition in 1971 because the FBI warned him that the lyrics supposedly contained anti-war messages in a time when the United States of America were at war with Vietnam.

You will encounter a wide range of styles while auditioning this piece. You will recognize Bernstein's style that one can find in the same musicals that secured his fame, but you will also sense a sound specific to music in the second half of the 20th Century.

In any case, it is a highly fascinating audition, especially because we rarely have the opportunity to listen to such music. A large part of the merit goes to conductor Yannick Nezet Seguin, who took the task of harmonizing such diverse and numerous artistic ensembles to create a bold and energetic masterpiece, being nothing less than a musical and spiritual challenge.
The record can be listened to on Monday, the 26th of March, at 7 PM, and again on Sunday, the 1st of April, at 1:05 PM.
Cristina Comandașu
Translated by Ruxandra Vorotneac,
MTTLC 2nd Year University of Bucharest;
Proofreading/Editing, Mihaela Ghițescu,
MTTLC An II